Alere INRatio®/INRatio®2 -
2 Pages
Mere INRat¡o2
PT/INR Monitor
True QC You Can See
For Rapid Results That
You Can Trust
Only the Alere INRatio®2 PT/INR Monitor
performs normal (OC1) and therapeutic (QC2)
assays automatically on every test and
provides quantitative, recordable results on
the display-true QC you can see, start
More Than Just A
Humidity Check
These two levels of control use a true clotting
control measure, following the standards of a
split sample laboratory QC system, to provide
sting integrity on every test.
Easy Test Procedure
A simple fingerst lek and
of blood delivers results
in about 60 seconds.
Proven Adherence
to Clinical Practice Guidelines
The Alere INHatio"2 Monitor surpasses
the ACCP guidelines lor low
ISI thromboplastin.1
A Smart Way to Improve
Patient Care and
Practice Efficiencies
Reduce unnecessary delays
Allows prompt medication changes
Counsel your patients tace-to-face with
dosage changes.
Improve patient satisfaction
Send patients home instead of to a lab for a
PT/INR test, or consider patient self testing.
Maximize practice efficiencies
Reduce time-consuming "call-backs",
freeing your staff for more productive duties.
PC Connect'" Software"
Free Windows software allows you to view,
save, print, and export test results.
User Friendly Features
h audible and
i Print results using the INRatio Printer
> Simple, icon based interface
• Auto turn-on with strip insertion
• Uses AC or battery power
Be empowered to handle the challenges of managing your anticoagulation patients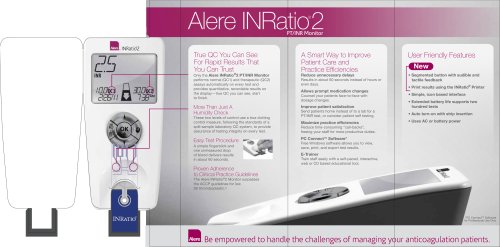 Text version
All Alere catalogues and technical brochures
Archived catalogues
epoc® Blood Analysis System

2 Pages

epoc®

2 Pages