PEEKPower, Distal Radius Plate - LIT2-401-EN -
2 Pages
PEEKPower, Distal Radius Plate
Innovative Material with
up-to-date plate design
• Radiolucent
• Multi- and undirectional
• P late design allows screw placement to fix distal fragments
of the radioulnar joint
• iming guide for secure screw placement
A
Material
•
Carbon fiber reinforced PEEK (CF-PEEK) with excellent
biocompatibility
•
CF-PEEK plate in combination with 2.7 mm titanium screws
•
Prevents cold welding → easy implant removal.
Radiolucent
•
Improved intra- and postoperative evaluation of the
fracture site and the healing process.
Advanced Anatomical Plate Design
•
The plate design is anatomically adapted to the
"Watershed Line" and precontoured to the radius surface.
•
Especially adapted screw position allows fixation of each
radius column with at least 3 screws.
•
Provides stable fixation of radial styloid fragments and
fragments of the distal radio-ulnar joint (DRUJ).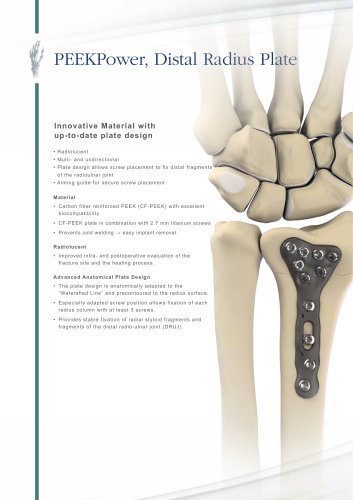 Text version
All Arthrex catalogues and technical brochures