bt-accent LED -
1 Pages
bt -accent LED
™
Professional Systems Detail
bt-accent ™ LED
Shipping
One Year Limited Warranty
Accessory Package
20 LED eye pads
1 Power Cord
1 LED protective goggle
1 bt-accent™ LED operation manual
System Products
1 CHROMATIC serum™ 2oz
1 ACCELERATE repairing™ 1oz
1 ACCELERATE clearing™ 1oz
1 ACCELERATE brightening™ 1oz
10 pk Hylauronic Light Rejuventation Masque
Unit Specications
Length: 12"
Width: 12"
Height: 3.5"
Weight: 15.7 lbs.
LCD Touch Screen: 8" x 8'"
Colors: RED, BLUE
Frequency: 10Hz, 40Hz, or 100Hz
Lights Per Color: 420
The bt-accent™ LED system is for esthetic purposes only, to be used by licensed estheticians in accordance
with applicable state licensing laws. No medical claims should be made with regard to Bio-Therapeutic systems.
The bt-accent™ LED is a LED lamp for the esthetic skin care service environment.
2244 1st Ave. S. Seattle, WA 98134
P: 206.938.5800 | 800.976.2544 F: 206.938.0928
bio-therapeutic.com
Items may vary without notice. Please contact Bio-Therapeutic for updated information.
REV6-22-12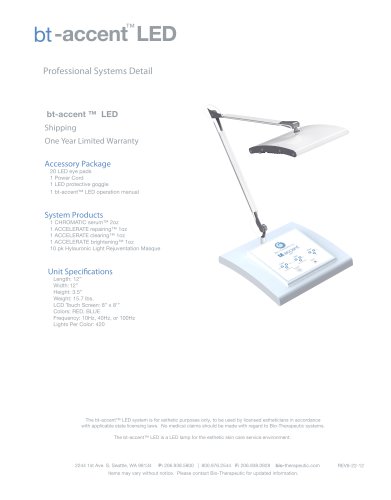 Text version
All Bio-Therapeutic catalogues and technical brochures