ThermoCool® Catheters -
4 Pages
ABLATE with ThermoCool Catheters
®
Far-Reaching
Effects
ThermoCool® Irrigated Tip Catheter
Key Benefits
Open irrigation overcomes the limitations of non-
>
Successful ablations with control and safety
irrigated ablation by lowering electrode and tissue surface
> Reduced thrombus and char formation
temperature, bringing together the efficacy of power delivery
> Precise signal resolution
with the safety of reduced char formation. Taking control
>
Increased anatomical access
(with magnetic and bi-directional steering)
and safety to the next level with the most complete line of
irrigated catheters—the ThermoCool® Catheter family.
ThermoCool® Navigation Catheters are the only
catheters approved for AF*, VT†, and Flutter#.
# Type I atrial flutter in patients age 18 or older.
† ecurrent drug/device refractory sustained monomorphic ventricular tachycardia (VT)
R
due to prior myocardial infarction (MI) in adults.
*D
rug refractory recurrent symptomatic paroxysmal atrial fibrillation, when used with
Carto® Systems (excluding NaviStar® RMT ThermoCool® Catheter).
www.biosensewebster.com
(This site is intended for visitors from the U.S. only.)
I d e a s m a k i n g a d i f f e r e n c eTM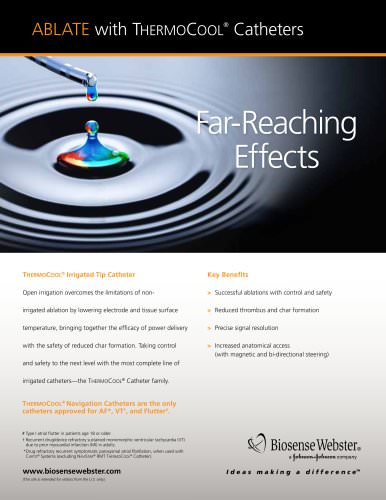 Text version
All Biosense Webster catalogues and technical brochures