Centesis and Drainage Products -

10

/ 20 Pages
Multipurpose Catheters
Thal-Quick Chest Tube set and Tray - Double Lumen
Used for pleural fluid drainage.

FeATURes & BeneFITs
• Additional lumen available for
aspiration or infusion.
• Sideports are positioned at the distal
end of the chest tube.
• Radiopaque catheter enhances
X-ray visualization.
CoMPonenTs
• Scalpel
• Introducer needle
• Amplatz Extra-Stiff Wire Guide
• Marked dilators
• Chest tube inserter
• Thal-Quick Chest Tube
• Needle holder cup
• Multipurpose tubing adapter
Intended for one-time use.
Global
Product
Number
Order
Number
Fr
Length
cm
Sideports
C-DLCTS-2400
24.0
40
4 large, 4 small
C-DLCTSY-2400
24.0
40
4 large, 4 small
Set
G36224
Tray*
G36225
* Tray also includes the following items: 25 gage needle, 22 gage needle, lidocaine, chlorhexidine, fenestrated drape, gauze
sponges, disposable syringes, suture with needle, povidone-iodine ointment, CSR wrap, prep tray and needle holder cup.
9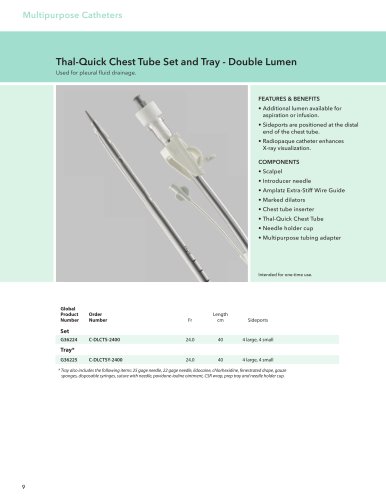 Text version
All COOK Medical catalogues and technical brochures