PC Audiometer 600M -
1 Pages
electronica-technologies.com
by Electronica Technologies
by Electronica Technologies
AUDIOMETER 600 M
Particularly suitable for Occupational, School and University Health.
• One simple and single connection : to your PC, with a USB link
• One single software, designed to be easy to install,
to be comprehensive and to be operated :
- Interactive and intuitive
- Without limitation of installation number and of validity duration
- Manual and automatic programmable modes
- Optimization of the tests, con guration of scenarioes
- Rapid execution (keyboard, mouse, personalization
of programs)
- Data banks, creation of patient files, saving, printing, exporting
• Ultra portable
• Truly performant
• In compliance with medical regulations : approved CE 0459
(Directive 93/42/CEE)
Supplied in a carrying briefcase including :
• the audiometric box
• the highly isolated headphones
• the 1m long USB cable
• the Patient response hand switch
Option :
Sennheiser HDA 280
• the CD supporting the software
headphones
and the user manual
The fl exibility of the software allows an adaptation
of its application to the different Medecines and
a personalization of the test programs according to
the effective needs of the Health Care Professional.
MADE
IN FRANCE
Its performances make it a software capable to :
• Be interfaced with any medical softwares and to export the
results of the tests
• Merge, synchronise or replace the data banks between each
other
• Help for interprating audiograms (according to EN 7029)
• Calculate the hearing losses
• Determine the hearing thresholds according to the
« Hughson–Westlake » method
• Produce a continuous or a pulsed sound
• Make appear on the patient sheet, all the marking elements
related to the test and the audiometer
The design of the audiometer 600 M makes it capable to be
connected with any PC (notebook, portable or for desk).
It ensures, alone, the electrical safety of the whole assembly
(according to EN 60601-1).
Type
Output
Frequency range (11 values)
Output level
Sound output
Headphones
Power supply / Communication
Minimum computer requirements
Supported operating systems
Packaging
Carrying
Weight of the complete briefcase
4 – screening (according to EN 60645-1)
Air conduction – highly isolated headphones, light, robust, aesthetic
125, 250, 500, 750, 1000, 1500, 2000, 3000, 4000, 6000, 8000 Hz (+/-2 %)
From - 10 up to 100 HLdB
Continuous or pulsed
Sennheiser, HDA 280 as an Option (to be specified in the order)
USB link
1 USB port, RAM : 1 Go, CPU : 1 GHz, Free space on hard disk : 50 Mo,
Graphic resolution : 1024x600
Windows 7, Windows Vista, Windows XP, Windows 8
ABS box – Dimensions 92x150x28 mm
Light shock-proof briefcase 280x310x100 mm
1,3 Kg (160 g for the audiometric box, alone))
Electronica Technologies reserves itself the right to change the specifications of its products without notice. The image is not contractual.
Headquarters and Industrial Center : Z I de la Tour - CS70044 - 03200 Abrest cedex - France.
Tel. +33 (0)4 70 96 52 90 - Fax +33 (0)4 70 96 01 23 - commercial@electronica-technologies.com
Ed. 01-12/15
WARRANT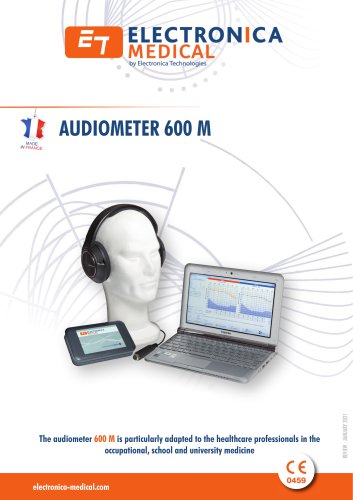 Text version
All Electronica Technologies catalogues and technical brochures