Booth:
Georg Krämer GmbH & Co KG
hoist lifters -
2 Pages
Emergency
lowering
GK Lifting Technology
Remote
control
SUN • STAR • MOON
Robust
battery pack
Comfortable
knee pad
Georg Krämer Ges.m.b.H. & Co.KG
A-4061 Pasching
Neuhauserweg 14
Tel. +43 / (0)7229 / 644 50
Fax +43 / (0)7229 / 70 664
Innovative
hoist system
Battery with
control unit
of ce@gk-medizinmechanik.at
www.gk-medizinmechanik.at
Typing, spelling or transmission errors excepted for all contents. All product-related information is not binding and is subject to change for technical production or other reasons (date 01/2007).
GK INTELLIGENT DETAILS FOR
HOLISTIC PERFECTION
LIFTER SUN • STAR • MOON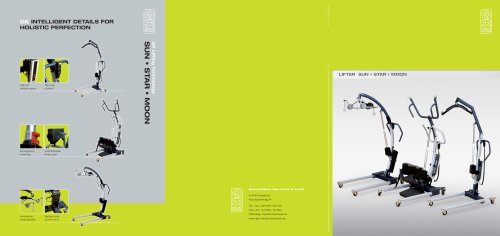 P. 2

"Quality of Care". To produce a degree of excellence with compassion. This states GK's philosophy in equipment design, application and...
Text version
All Georg Krämer GmbH & Co KG catalogues and technical brochures
showering systems

2 Pages