Handler-DentalCat09 -

9

/ 52 Pages
HANDLER BDO-274-2B35 FAX 908-233-7340
ROTORS & ALLOY GRINDERS
16C ACCELA/ROTOR
The I 6C Accela/Rotor is a combination of the Handler Accela/Rotor
attachment and No. 26A Red Wing Lathe.The Accela/Rotor attachment
converts the right side of the lathe from standard lathe speeds of 1725/3450
rpm to 12,000 and 24,000 rpm for use in finishing non-precious alloys and
chrome-cobalt alloys.
The I 6C is shipped complete with a Red Wing Lathe, Accela/Rotor with
movable light and protective shield, high speed spindle, adjusting levers and
necessary guards.
The high speed spindle incorporates an activating handle which opens and
closes the 3/32" [0.2cm] collets for ease of changing burs and mandrels while
the motor is running.
Specify high or low base when ordering 16C.
Shipping Wgt: 50 lbs [22.7 Kg]
Unit Dimensions: 19" wide x 9" high x I I " deep [48.2cm x 22.9cm x 30cm]
16D ACCELA/ROTOR ATTACHMENT
The I 6D Accela/Rotor attachment turns your Red Wing Lathe into a High Speed alloy grinder
It attaches to the right side of your Red Wing lathe and provides 12,000 and 24,000 rpm speeds
for proper metal finishing. Shipped complete with all necessary guards, instructions, light, and high
speed spindle,
ShippingWgt: I I lbs [5.0 Kg]
Unit Dimensions: 14" wide x 12" deep x 17"high [36cm x 31 cm x 43cm]
Polishcidc
Pumice with pre mixed disinfectant
PUMICEWITH DISINFECTANT PREMIXEDWITH DRY BUFFERED ORGANIC
CHLORINATED COMPOUND. SAFE & EFFECTIVE
i-ÂffiOÛI~NS
POL025
Contains 25 lbs of the premixed POLISHCIDEe
compound in a resealable plastic bag inside a
heavy duty corrugated box.
Shipping Weight: 26 lbs
Case Dimensions: I I Iff'Wx 10 1/2" Lx 10 1/2" H
POLOIO
Sold by the case. Each case contains 10 disposable trays, 1/2 lb of premixed
POLISHCIDE® compound and buffing wheel.
Shipping Weight: 9 lbs
Case Dimensions: I I 1/2" Wx 10 1/2" Lx 10 1/2" H
ROTORS AND GRINDERS V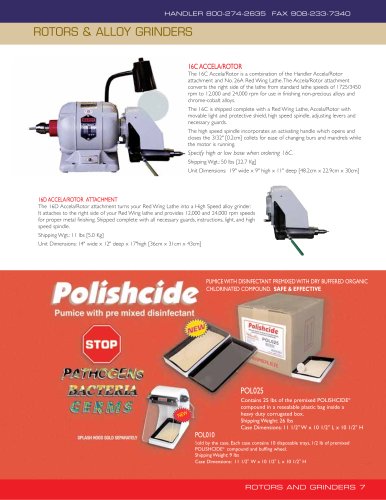 Text version
All Handler MFG. Co., Inc.- Red Wing Int'l catalogues and technical brochures