Booth:
Lmb Technologie GmbH
Bagmatic NOVO -
2 Pages
Quality has a new name
Bagmatic NOVO
NEW – PRODUCT PREVIEW
Bagmatic NOVO
Bagmatic NOVO is our new blood
collection monitor serving the
special needs of mobile blood
Features
donations. As a light weight
device with outstanding long
Best choice for field applications (battery driven,
battery life, it is developed to
with no need for electricity)
take a predefined blood donation
8 hours of independent work, up to 30 donations
and mix the product in a three-
autonomy
dimensional way. For quality
3-dimensional mixing of the blood donation
assurance, Bagmatic NOVO
OLED display with easy menu navigation
Maximum and minimum flow detection ensures
smooth treatment of the product
monitors the entire blood
donation and registers all
significant events that may occur
during the process.
Visual indication of error / warning / donation status
Wireless connection for data transfer
USB plug for data collection
Data collection
SD card data storage
With SD card
Powerful PC software for configuration of the device,
USB connection
data collection and analysis
Wireless connection
Lmb Technologie GmbH
Möslstr. 17
D-85445 Schwaig
Tel: +49 - 8122 - 880 96 - 0
Fax:+49 - 8122 - 880 96 - 60
www.lmb.de
info@lmb.de
Various connection
possibilities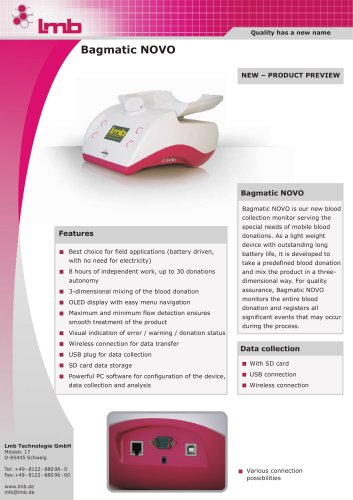 P. 2

Quality has a new nameBagmatic NOVOAdvantagesSmall size and extremly light weightHigh portability for mobile useIncreased efficiency with all experienceData...
Text version
All Lmb Technologie GmbH catalogues and technical brochures