Booth:
Lmb Technologie GmbH
Sealmatic -
2 Pages
Quality has a new name
SEALMATIC
NEW
product
SEALMATIC is the latest answer to
emerging demand of quality blood banking
for high precision sealing combined with an
outstanding short sealing time. The device
SEALMATIC is designed as stationary sealer
that offers just as well mobility in the
donation room due to its low weight and
comfortable carrying handle. Extremely low
hemolysis figures complete SEALMATIC as
a blood bank must-have.
Mobile SEALMATIC for bloodbags
Low hemolysis technology
Shortest sealing time 0,99 sec
High precision switch to
activate the seal
Easy to clean in case of
blood leakage
Small head for transparency of the sealing process
Precision electronics
Lmb Technologie GmbH
Möslstr. 17
D-85445 Schwaig
+49 - 8122 - 880 96 - 0
+49 - 8122 - 880 96 - 60
www.lmb.de
info@lmb.de
Precision mechanics
Precision switching
Precision hygiene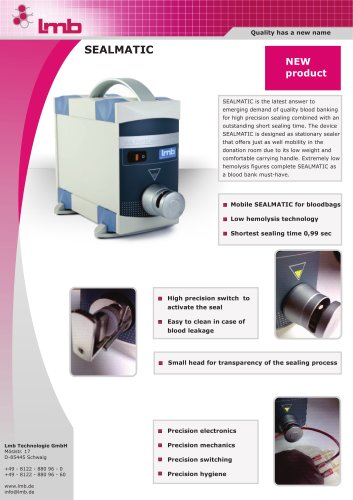 P. 2

Quality has a new nameSEALMATICEasy access for the user toinsert the tubingsOnly 0.99 sec for one sealTube diameter from 2,5 mmto 6,5 mm can be sealedsamplenumber1Hemolysis-free...
Text version
All Lmb Technologie GmbH catalogues and technical brochures