Booth:

Natus Medical Incorporated
Group: Natus
ALGO 5 -
2 Pages
THE NEXT-GENERATION
ALGO 5 SYSTEM FEATURES:
The new, advanced ALGO® 5 Newborn
Hearing Screener combines the trusted
Natus AABR® algorithm with cutting
edge technology to provide the ideal
solution for your newborn hearing
screening program.
Natus AABR® technology — the gold standard
in newborn hearing screening, with clinically
proven sensitivity & specificity
Device-based Data Management
• Statistical reports
• Pre-formatted letter templates
• Multi-patient management
Easy-to-use graphical interface
•C«5(l ■ ~~ • DO
38 £k v..
Updated ergonomic cart
Network compatible
Optional page printer
Panel PC
Label
Printer
Page
Printer
(optional)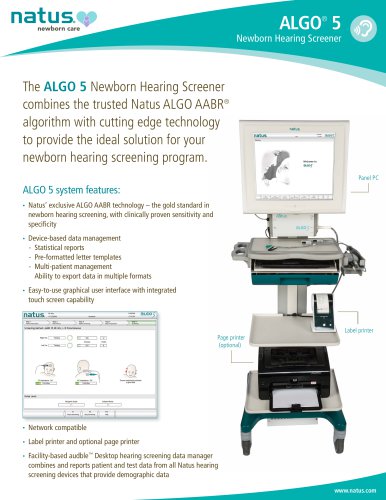 P. 2

Weight* 140 lbs (63.5 kg) Dimensions*61.5in H x20in Wx 19.5n D aLGOC Newborn Hearing Screener M Sweep Rates • 37 clicks/second (nominal)...
Text version
All Natus Medical Incorporated catalogues and technical brochures