hi-neb -
2 Pages
riorclitalia
elettromedicali
Piston nebulizer Hi Neb
Aerosol! h era py appliance provided of innovative
piston compressor with high performances and non-
stop working.
High operative pressure ensures o tost nebulization
time and particle dimension therapeutically effective,
also thanks to the 2 speeds Neboplus Ampul. The
consoci dimensions ice "ate the i'anspor and the
storage. Handle, cable winder, ampul-housing and
spare filter.
Modern design, crash proof plastic case and
attractive colours.
Aerosol o pistone Hi Neb
Apparecchio per aero solt erapi a dotato di innovativo
conpressore ad eleva-o presto/ioni c v.nzionamento
continuo.
L' elevato pressione operativa garantisce tempi di
nebulizzazione rapidi e dimensione delle particelle
terapeuticanente efficace grazie all' ampolla
nebulizza trice 1 velocità. Le dimensioni compatte
fasi.irono il trasporto e lo stoccaggio. Maniglia,
avvolgicavo, portampolla e filtro di ricambio.
Design moderno, scocca resistente agli urti e colori
attraenti.
m
The breath of wellness
ITALIAN
QUAI ITY & DESIGN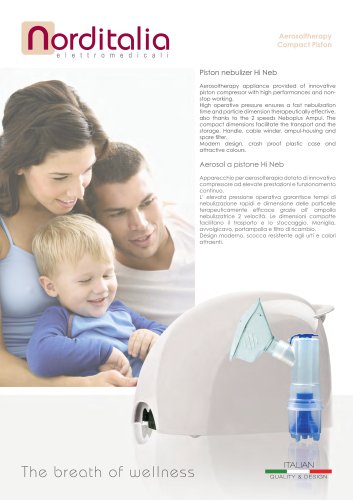 Text version
All Norditalia catalogues and technical brochures