Zoom Microplate Washer -
2 Pages
Zoom Microplate Washer
The Zoom Washer is a versatile and easy-to-use microplate washer for
96- and 384-well plates. Flexible user-defined settings make the Zoom
Washer adaptable to all your microplate washing needs. The selectable
dispense flow rate, aspirate time and aspirate tips positioning make
the Zoom Washer a perfect tool for a variety of applications ranging from
vigorous ELISA washing to gentle cell washing.
The self-emptying wash liquid evacuation system discards used wash fluids
in unattended mode. It supports a constant aspirate flow rate during
the wash cycle. The flow rate can be set as high as 120 l/min or can be
significantly reduced to facilitate gentle cell washing. The discarded wash
fluid is captured by a self-emptying waste trap. The trap is capable of
automatically introducing the decontamination reagent. The decontaminated
waste is continuously drained during washer operation.
When equipped with an optional Dispense Module, the Zoom becomes
more than a washer but a modular liquid handling workstation for 96and 384-well plates processing.
· Fast: 3 x 300 µl wash in 17 s.
The optional Dispense Module allows for an immediate reagent addition
after or between wash cycles. Flexible programming options enable
the user to choose between wash, wash-dispense or just dispense
protocols. Shake and soak time options further extend the capabilities
of the Zoom Washer.
· Optional Valve Module for automated switching between
· Programmable 3-dimensional aspirating tips positioning
during the wash cycle.
up to four wash fluids.
· Standard wash and Superwash (continuous flow) modes.
· Small instrument footprint – easily fits in hoods
or robotic systems.
· Self-emptying liquid waste evacuation system.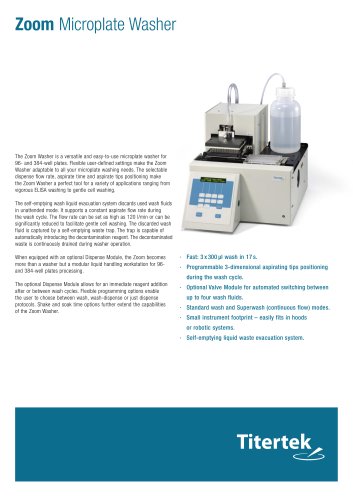 Text version
All Titertek-Berthold catalogues and technical brochures