Colposcopio ColpoStar™ 1H -
2 Pages
REACH FOR THE
5 \ WW
C0LP0STAR1H
A HIGH QUALITY COLPOSCOPE
THAT FOCUSES
ON AFFORDABILITY
Take Wallach's traditional quality and
dependability, add to that exceptional value,
and you have the new Wallach Colpostar 1 H.
The Colpostar 1H offers precision, distortion-
free stereo optics, optimum single magnification,
wide field of view and great depth-or-field.
Unique to single magnification colposcopes is
Wallach's fiber optic halogen lighting system
which yields white, clear, cool, natural tone
tissue illumination for accurate colposcopie
examination. In contrast, incandescent lighting
used on other colposcopes tends to make tissue
appear yellowish and less bright.
The Colpostar 1 H features a compact center
post with fine and coarse height adjustment,
and a five-point base for stability and
maneuverability between examination areas.
In addition, Colpostar 1H meets worldwide
electrical standards (UL, CSA, IEC 601).
The Wallach Colpostar 1 H is the Finest
value in single magnification colposcopes.
WAÌACH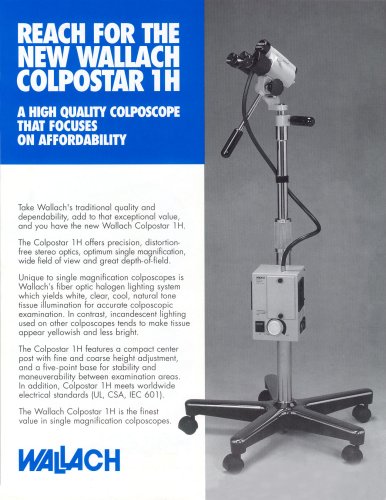 Text version
All Wallach Surgical Devices catalogues and technical brochures
Archived catalogues