Catalogs

>

3B Smart Anatomy included with 3B Scientific models
Catalog excerpts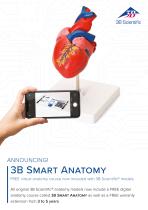 FREE virtual anatomy course now included with 3B Scientific® models All original 3B Scientific® anatomy models now include a FREE digital anatomy course called 3B Smart Anatomy as well as a FREE warranty extension from 3 to 5 years.
Open the catalog to page 1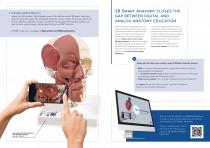 Virtual meets Reality Watch the 3B Scientific® Skull Model come to life with the virtual 3B Smart Anatomy lectures about the head. The 3B Smart Anatomy course covers 23 lectures about the human skeleton, digestive, urinary, circulatory, neurological and sensory systems, as well as torso, gynaecology, dental, genital, pelvis and ENT lectures. 3B Smart Anatomy CLOSES THE GAP BETWEEN DIGITAL AND ANALOG ANATOMY EDUCATION To access the 3B Smart Anatomy course, studying and explaining human anatomy and a simply download the Complete Anatomy app great education solution for medical students, after...
Open the catalog to page 2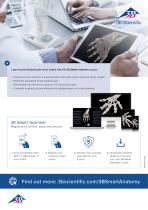 + Learn Human Anatomy like never before with the 3B Smart Anatomy course: • Discover human anatomy in amazing details with high quality rendered virtual models • Watch the movement of the beating heart • Dive deeper into the human body on the microscopic level • Complete anatomy courses delivered by leading experts in human anatomy 1. Scan holographic label (NFC or QR) located on your model 2. Register your anatomy model online 3. Activate your warranty upgrade from 3 to 5 years 4. Download Complete Anatomy to access your free 3B Smart Anatomy course Registration is free, easy and se
Open the catalog to page 3
All 3B Scientific catalogs and technical brochures

Compare up to 10 products