Catalogs

>

iSimulate REALITi360 Product Ecosystem
Catalog excerpts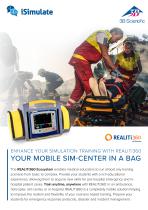 ENHANCE YOUR SIMULATION TRAINING WITH REALITi360 YOUR MOBILE SIM-CENTER IN A BAG The REALITi360 Ecosystem enables medical educators to run almost any training scenario from basic to complex. Provide your students with a rich educational experience, allowing them to acquire new skills for pre-hospital emergency and inhospital patient cases. Train anytime, anywhere with REALITi360: in an ambulance, helicopter, sim-center, or in-hospital. REALITi360 is a completely mobile solution helping to improve the realism and flexibility of your scenario based training. Prepare your students for emergency response protocols, disaster and incident management.
Open the catalog to page 1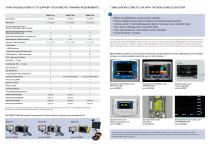 › FIND THE REALITi360 KIT TO SUPPORT YOUR SPECIFIC TRAINING REQUIREMENTS: › SIMULATIONS COME TO LIFE WITH THE REALITi360 ECOSYSTEM: + REALITi Plus Universal (Generic) Screens – Monitors, Defibrillator, AED, Ventilator Premium Simulated Screens included (Zoll, Philips, Schiller, etc.) ECG Waveforms – Rate Controllable Invasive Blood Pressure Waveforms Critical Care Waveforms Scenario Creation Patient Images Simulated monitor / defibrillator screen "Zoll® Propaq® MD" Simulated monitor / defibrillator screen "DEFIGARD Touch 7" Laboratory Reports Training Management System Video Debriefing...
Open the catalog to page 2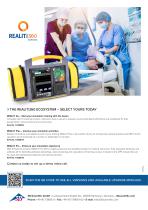 › THE REALITi360 ECOSYSTEM – SELECT YOURS TODAY REALITi Go – Start your simulation training with the basics Complete with 6 universal screens, instructors have a set-up to prepare course participants effectively and realistically for their assignments in the preclinical and clinical area. Item No. 1022862 REALITi Plus – Improve your simulation activities Ready to introduce a simulated screen to your training. REALITi Plus is the perfect choice for introducing medical students and EMT's to the operation and functionality of a monitor or defibrillator in the field. Item No. 1022815 REALITi...
Open the catalog to page 3
All 3B Scientific catalogs and technical brochures

Compare up to 10 products