Catalogs

>

Product Brochure Hemorrhage Control Arm Trainer
Catalog excerpts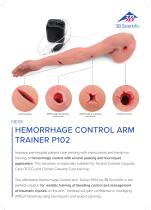 Deep laceration GSW through and through entry wound GSW through and through exit wound Junctional wound HEMORRHAGE CONTROL ARM TRAINER P102 Improve pre-hospital patient care training with instructional and hands-on training of hemorrhage control with wound packing and tourniquet application. This simulator is especially suitable for Tactical Combat Casualty Care (TCCC) and Civilian Casualty Care training. The affordable Hemorrhage Control Arm Trainer P102 by 3B Scientific is the perfect solution for realistic training of bleeding control and management of traumatic injuries on the arm. Trainees will gain confidence in managing difficult bleeding using tourniquets and wound packing.
Open the catalog to page 1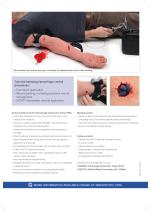 The simulator can also be worn by a volunteer for added realism and in field training. Train the following hemorrhage control procedures: • Tourniquet application • Wound packing, including junctional wound management • XSTAT® (hemostatic device) application Technical features of the Hemorrhage Control Arm Trainer P102: Bleeding system: • The trainer simulates a full arm of an adult male with a very • Secure 2 liters blood reservoir with manual blood pump system realistic outer anatomy • The skin is made of high quality SKINlike™ sturdy silicone to simulate human skin and tissue haptics...
Open the catalog to page 2
All 3B Scientific catalogs and technical brochures

Compare up to 10 products