Catalogs

>

Product brochure - Postpartum Hemorrhage Simulator – PPH Trainer P97 PRO
Catalog excerpts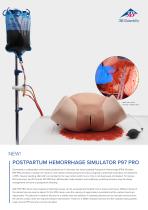 Inside view while suturing a vaginal tear POSTPARTUM HEMORRHAGE SIMULATOR P97 PRO Developed in collaboration with leading obstetricians in Germany, the newly updated Postpartum Hemorrhage (PPH) Simulator P97 PRO provides a solution for hands-on and realistic training sessions for early recognition, systematic evaluation and treatment of PPH. Severe bleeding after birth can be fatal for the new mother within hours if she is not diagnosed and treated. To improve PPH outcomes, the PPH trainer P97 PRO from 3B Scientific helps obstetric and healthcare professional teams train the timely management and care of postpartum bleeding. With P97 PRO, three main postpartum bleeding causes can be evaluated and treated: Tonus, trauma and tissue. Different levels of the uterine tone are easy to adjust. On this PPH trainer, even the suturing of vaginal tears is possible and the rupture inserts are replaceable. The placenta is made of silicone for a realistic feel and softness. A retained placenta can be manually removed from the uterine cavity to train the required medical interventions. Thanks to a 3000 ml blood reservoir and the compact tubing system, major severe PPH scenarios can be simulated.
Open the catalog to page 1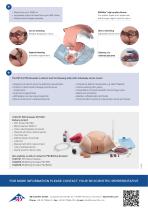 + • Blood loss up to 3000 ml • Adjustable speed of blood flow up to 400 ml/min • Multiple hemorrhages possible SKINlike™ high-quality silicone For realistic haptic from abdominal wall through vaginal canal to uterus Cervix bleeding Realistic postpartum cervix Vaginal bleeding Suturable vaginal tears Uterus bleeding Adjustable uterine tone Delivery of a retained placenta The P97 Pro PPH Simulator is ideal to train the following skills, both individually and as a team: • Diagnosis of uterine atony by abdominal examination • ractice of both fundal massage and bimanual P compression • Suturing...
Open the catalog to page 2
All 3B Scientific catalogs and technical brochures

Compare up to 10 products