Catalogs

>

Model 1600
Catalog excerpts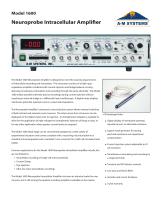 • Digital display of membrane potential, injected current, or electrode resistance • Square-wave generator for testing electrode resistance and capacitance compensation • Current injection system adjustable to 0.1 nA resolution • Simultaneous stimulating and recording by a single electrode • Transient and DC balance controls • Low-pass and Notch filters • Includes rack mount hardware The Model 1600 Neuroprobe Amplifier is designed to meet the exacting requirements of intracellular recording and stimulation. The instrument consists of a high input-impedance amplifier combined with current injection and bridge balance circuitry, allowing simultaneous stimulation and recording through the same electrode. The Model 1600 makes possible extremely precise recordings during current injection without requiring an external bridge or a differential input oscilloscope. A digital meter displays membrane potential, injected current, or electrode impedance. The Neuroprobe Amplifier's advanced current injection system allows external switching of both internal and external current sources. The total current from all sources can be displayed on the digital meter prior to injection. An Iontophoresis Adapter is available to allow for the application of high voltages for iontophoretic injection of drugs or dyes, or for any other application where greater current levels are required. The Model 1600 Head Stage can be conveniently adapted to a wide variety of experimental situations and comes complete with a mounting rod and bracket for a standard micromanipulator and a standard 2 mm connector for a half-cell microelectrode holder. Common applications for the Model 1600 Neuroprobe Intracellular Amplifier include, but are not limited to: o Intracellular recording of single cell action potentials o Current Clamp o Dye Injection ° Ultra-low noise extracellular recordings The Model 1600 Neuroprobe Intracellular Amplifier has been an industry leader for over 25 years, and is still among the quietest recording amplifiers available on the market.
Open the catalog to page 1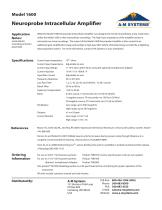 Application Notes: extracellular recording of action potentials While the Model 1600 Neuroprobe Intracellular Amplifier was designed to record intracellularly, many researchers utilize the Model 1600 in their extracellular recordings. The high input impedance of the amplifier results in extremely low noise recordings. The output of the Model 1600 Neuroprobe Amplifier is then routed to an additional gain amplification stage and perhaps a high pass filter before ultimately being recorded by a digitizing data acquisition system. For more information, contact A-M Systems or your distributor....
Open the catalog to page 2
All A-M Systems catalogs and technical brochures

Compare up to 10 products