Catalogs

>

aacurat genius EN
Catalog excerpts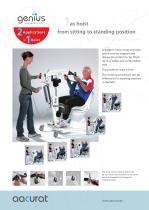 universal lift Applications Applications Hoist Hoist 1as hoist from sitting to standing position 2 as hoist with fabric sling A modern hoist corset provides spinal column support and allows the patient to be lifted up in a stable and comfortable way. The posterior area is free. The hoisting procedure can be effected till a standing position is reached. The hoist can be easily transformed by hand from one function to the other without the addition of separate individual parts.
Open the catalog to page 1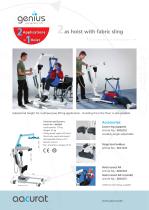 universal lift Applications Applications 2 as hoist with fabric sling 1as hoist from sitting to standing position Hoist Hoist Technical specifications: Article No.: 8805000 Load capacity: 175 kg Weight: 52 kg Lifting speed: approx 30 mm /s Electrically supported spread Rechargeable battery 24 V Remote control Elec. protection category IP 54 Accessories: Lower leg supports Article No.: 8806002 variably single adjustable Strap foot holders Article No.: 8823300 Substantial height for multipurpose lifting application. Hoisting from the floor is also possible. Hoist corset AK Article No.:...
Open the catalog to page 2
All Aacurat GmbH catalogs and technical brochures
Compare up to 10 products