Catalogs

>

Hanabi Harvesters Flyer
Catalog excerpts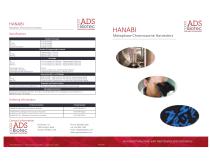 gADS & Biotec YOUR PATH TO DISCOVERY Phone: 402-800-3200 Fax: 402-800-3183 Email: info@adsbiotec.com Web: www.adsbiotec.com HANABI Metaphase Chromosome Harvesters Specifications Number of Samples 75 mM KCI and Acetic acid: Methanol, 1:3 Other hypotonic and fixative solutions can also be used Operating Environment Temperature of hypotonic solution-15 to 30 °C, can be warmed to 37 °C, and fixative can be chilled on ice | Relative humidity- 20 to 60%_'_'_ Ordering Information Product Description Contact Information ADS Biotec, Inc. 7409 Irvington Road, Omaha, NE 68122 USA YOUR PATH TO DISCOVERY | f\ | \| f\ I J | YOUR PATH TO DISCOVERY Metaphase Chromosome HarvestersIncreased Productivity with High Quality and Consistency 602156-A 2015 ADS Biotec Inc. All specifications are subject to change without notice.
Open the catalog to page 1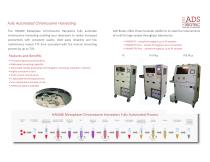 Fully Automated Chromosome Harvesting The HANABI Metaphase Chromosome Harvesters fully automate chromosome harvesting enabling your laboratory to realize increased productivity with consistent quality. Walk away reliability and low maintenance reduce FTE time associated with the manual harvesting process by up to 75%. Features and Benefits • Increased laboratory productivity • WaIk-away harvesting capability • Automated sample processing: Centrifugation, Vortexing, Aspiration, Injection • Highly consistent results • Touch screen control panel • 6 adjustable harvesting protocols • Low...
Open the catalog to page 2
All ADS Biotec Limited catalogs and technical brochures

Compare up to 10 products