Catalogs

>

ComboScan® HD Series brochure
Catalog excerpts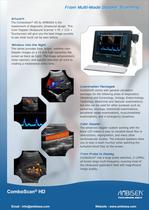 Fram Multi-Made Dappler Scanning ... masterwork of diagnostic ultrasound design. This Color Doppler Ultrasound Scanner + PC + LCD + Touchscreen will give you the best Image possible to see what could not be seen before. Window into the Night This series provides clear, bright, realtime color Doppler Images on a 19 inch high-resolution flat screen as black as night. The Image enhancement, noise rejection, and speckle reduction all work to creating a masterpiece every time. Examination Packages ComboSoft comes with general calculation packages for the following areas of diagnostics:...
Open the catalog to page 2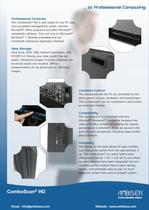 Professional Computer The ComboScan® HD is well suited for any PC uses such as patient management, email, internet, Microsoft® Office programs and other Microsoft® compatible software. This unit runs on Microsoft® Windows® 7 Ultimate preloaded and our Combosoft ultrasound diagnostic interface. Data Storage Hard drive, DVD, USB, network connection, and DICOM 3.0. Moving your data couldn't be any easier. Ultrasound images including cineloops can be stored locally and recalled. Offline measurements can be performed on retrieved Email : info@ambisea.com Complete Control same generic mouse,...
Open the catalog to page 3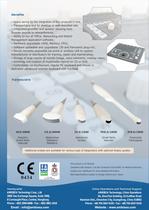 • Space saving by the integration of four products in one, • Transportable and for desktop or wall-mounted use, • Integrated amplifier and speaker allowing from Doppler sounds to teleconference, • Ability to run all Office, Networking and Patient Management application software, • Hardware upgradable (HDD, Memory, CPU), • Software updata ble and upgradable (3D and Panoramic plug-ins), • Device remotely accessible via wired or wireless LAM by system manufacturer or distributors for training, repair and maintenance, • Storage of large volume of records (image, voice comments, clneloop video),...
Open the catalog to page 4
All Ambisea Technology catalogs and technical brochures

Compare up to 10 products