Catalogs

>

AOPEN

>

Specsheet Antimicrobial 22'' protective film
Catalog excerpts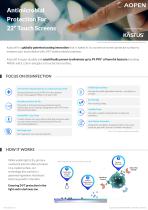 Antimicrobial Protection For 22" Touch Screens *ISO 27447 Antimicrobial certification standard independently verified by Airmid laboratories Kastus® is a globally patented coating innovation that is 'baked in' to a screen or screen protector surface to enhance your touch device with 24/7 antimicrobial protection. Kastus® is super durable and scientifically proven to eliminate up to 99.99%* of harmful bacteria including MRSA, and E. coli on any glass or touchscreen surface. 24/7 Antimicrobial protection on coated surfaces for life Permanently blocks up to 99.99% of surface bacteria. Proven results against MRSA, E. coli and C. diff. Visible light activated Activated by visible light indoors and out – not reliant on UV light. Eco-friendly Durable protection for life Once built-in to the glass during manufacturing, the antimicrobial screen coating is designed to work 24/7 for the lifetime of the product. Non-leaching coating. Invisible Finish Ultra-thin, invisible coating that has no impact on aesthetics. Hydrophilic - Easy Clean Creates a hassle-free, easy clean surface that conserves water use and reduces chemical cleaning needs. Perfect for self-cleaning appliances. Anti-Shatter Protection Designed to not shatter. If exposed to force, the screen protector glass will crack but not shatter into pieces. Note: This has been provided by Kastus® Anti-fingerprint, easy clean functionality. HOW IT WORKS While visible light is the primary method of antimicrobial activation on a coated surface, our technology also contains a patented ingredient that blocks bacteria growth in the dark. Note: Diagram has been provided by Kastus® Ensuring 24/7 protection in the light and in darkness too.
Open the catalog to page 1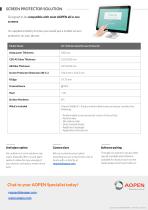 Designed to be compatible with most AOPEN all in one screens.It is applied similarly to howyou would put a mobile screen protector on your phone. Anti-glare option For outdoors or semi-outdoors use cases, Kastus® offers an anti-glare option to allow for easy viewing of your devices and reduce strain on the eyes. Custom sizes We can customise your option according to your screens sizes. Get in touch with us directly at reauest@aopen.com Software pairing Through our partners, we also offer special and dedicated software available for all your touch screen needs today. Get in touch with us!...
Open the catalog to page 2
All AOPEN catalogs and technical brochures

Compare up to 10 products