Catalogs

>

Arkray

>

aution_screen
Catalog excerpts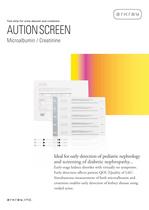 Test strip for urine albumin and creatinine AUTION SCREEN icroalbumin / Creatinine AUTION SCREEN VicrnaflurWCrwnwa Ideal for early detection of pediatric nephrology and screening of diabetic nephropathy... Early-stage kidney disorder with virtually no symptoms. Early detection affects patient QOL (Quality of Life) . Simultaneous measurement of both microalbumin and creatinine enables early detection of kidney disease using voided urine.
Open the catalog to page 1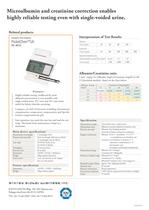 Microalbumin and creatinine correction enables highly reliable testing even with single-voided urine. Related products Compact Urine Analyzer Highly-reliable testing, unaffected by urine dilution/concentration is even possible with single-voided urine. P/C ratio and A/C ratio items useful for kidney disorder screening. Compact, yet full of functions including chromaturia compensation, temperature compensation and Specific Easy operation: just push the start key and load the test strips. The hassle from maintenance is kept to a Interpretation of Test Results Albumin/Creatinine ratio...
Open the catalog to page 2
All Arkray catalogs and technical brochures

Archived catalogs

Compare up to 10 products