Catalogs

>

Arkray

>

GLUCOCARD Σ
Catalog excerpts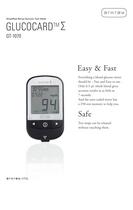 Simplified Blood Glucose Test Meter Easy & Fast Everything a blood glucose meter should be - Fast and Easy to use. Only 0.5 |iL whole blood gives accurate results in as little as And the auto coded meter has Test strips can be released without touching them.
Open the catalog to page 1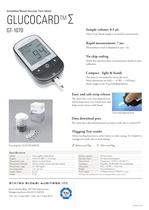 Simplified Blood Glucose Test Meter Test strip for GLUCOCARD Z Only 0.5 fiL blood sample is needed for measurement. Measurement result is displayed in just 7 sec. Hassle-free operation prior to measurement thanks to auto Compact - light & handy The meter is convenient for use on the move. Meter weight is just 39 g (including battery). Easy and safe strip release The meter has a test strip disposal lever which helps keep your hand clean and helps avoid contact with blood. Test strip disposal lever Data download port The meter has a data download port to export result data to external PC....
Open the catalog to page 2
All Arkray catalogs and technical brochures

Archived catalogs

Compare up to 10 products