Catalogs

>

DURAVIT WIDE
Catalog excerpts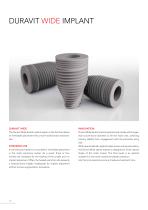 DURAVIT WIDE IMPLANT DURAVIT WIDE The Duravit Wide dental implant system is the first that allows Duravit Wide dental implant systems have a body with a larger- an immediate placement into a multi-rooted molar extraction than-conventional diameter to fill the molar site, achieving primary stability from engagement with the perimeter bony wall. With tapered dental implant bodies and an enhanced surface, A conventional implant is not suited for immediate placement the Duravit Wide dental implant is designed to fit the natural in the molar extraction socket. As a result, three or four shape of the molar socket. The final result is an optimal months are necessary for the healing of the socket prior to implant fit in the multi-rooted immediate extraction implant placement. Often, the healed extraction site presents site that minimizes bone loss and reduces treatment time. a reduced bone height, inadequate for implant placement without a bone augmentation procedure.
Open the catalog to page 1
MORSE CONE & HEXAGON MICROGROOWING COLLAR TRIPLE THREAD BODY PERFECT ANATOMICAL DESIGN LIKE A RADICULAR STRUCTURE SELF-TAPPING SYSTEM APICE "BONE FRIENDLY"
Open the catalog to page 2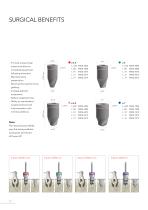 SURGICAL BENEFITS - Fit multi-rooted molar socket and allow an following extraction. - Maximize bone preservation. immediate placement, - Minimize the need for bone grafting. - Increase patient's acceptance. - Reduce treatment time. - Ability to use standard surgical protocol and minimal additions. instrumentation with Note: The implant Duravit Wide uses the same prosthetic accessories and drivers of Duravit 3P.
Open the catalog to page 3
All B&B DENTAL catalogs and technical brochures

Compare up to 10 products