Catalogs

>

FC-20 Fireman's Turnout Gear (PPE) Drying Cabinet
Catalog excerpts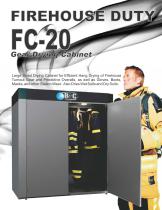 FIREHOUSE DUTY Gear Drying Cabinet Large Sized Drying Cabinet for Efcient Hang Drying of Firehouse Turnout Gear and Protective Overalls, as well as Gloves, Boots, Masks, and other Station Wear. Also Dries Wet Suits and Dry Suits.
Open the catalog to page 1
Maximum Flexibility, Minimum Cost FC-20 Drying Cabinet - Dries 6 sets of Turnout Gear The B&C Technologies FC-20 Firedryer is especially designed for drying heavy duty overalls. With efcient and gentle drying action, the dryer can hold 6 sets of turnout gear making it a necessity for re departments and other industries. The unique drying process dries the gear from both the inside and outside. Fans direct heated air over the outside of the gear while a second system dries from the inside, directing the air through specially designed hangers to the interior of the gear. The FC-20 dries with...
Open the catalog to page 2
All B&C Technologies catalogs and technical brochures

Compare up to 10 products