Catalogs

>

HE Series Commercial Washer
Catalog excerpts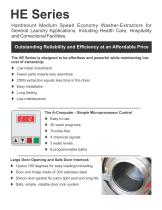 Hardmount Medium Speed Economy Was her-Extractors for General Laundry Applications, Including Health Care, Hospitality Outstanding Reliability and Efficiency at an Affordable Price The HE Series is designed to be effortless and powerful while maintaining low ♦ Fewer parts means less downtime ♦ 200G extraction equals less time in the dryer The A-Computer - Simple Microprocessor Control Large Door Opening and Safe Door Interlock ♦ Opens 180 degrees for easy loading/unloading ♦ Door and hinge made of 304 stainless steel ♦ Silicon door gasket for extra tight seal and long life ♦ Safe, simple,...
Open the catalog to page 2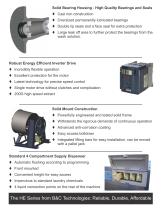 Solid Bearing Housing - High Quality Bearings and Seals ♦ Cast iron construction ♦ Oversized permanently lubricated bearings ♦ Double lip seals and a face seal for extra protection ♦ Large leak off area to further protect the bearings from the wash solution. Robust Energy Efficient Inverter Drive ♦ Incredibly flexible operation ♦ Excellent protection for the motor ♦ Latest technology for precise speed control ♦ Single motor drive without clutches and complication ♦ 200G high speed extract Solid Mount Construction ♦ Powerfully engineered and tested solid frame ♦ Withstands the rigorous...
Open the catalog to page 3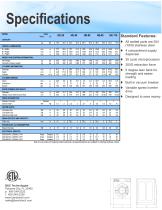 OVERALL DIMENSIONS: WEIGHT AND SHIPPING INFORMATION: Domestic shipping weight CYLINDER INFORMATION: CYLINDER SPEEDS: DOOR OPENING AND HEIGHT: Height of door bottom above floor DRIVE INFORMATION: WATER INLETS Cold water size Additional water Inlet DRAIN OUTLETS AND CAPACITY: Drain size STEAM INLET and CONSUMPTION: Steam inlet size ELECTRICAL SERVICE: Amps Breaker Amps Breaker Amps Breaker Due to our policy of ongoing improvements, all specifications are subject to change without notice. Standard Features: ♦ 5 degree lean back for ♦ Built in vacuum breaker ♦ Variable speed inverter ♦ Designed...
Open the catalog to page 4
All B&C Technologies catalogs and technical brochures

Compare up to 10 products