Catalogs

>

IF Series Commercial Feeder-Ironer-Folder
Catalog excerpts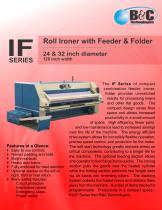 Roll Ironer with Feeder & Folder 24 & 32 inch diameter 126 inch width Easy to use controls Nomex padding and belts Built in exhaust Heavy duty frame Fully enclosed for heat retention Optional stacker on the left or right, front or rear return · Many safety features: Circuit protection Interlocked panels Emergency stops Finger safety The IF Series of compact combination feeder, ironer, folder provides unmatched results for processing linens and other at goods. The compact design saves oor space and allows increased productivity in a small amount of space. High efciency, fewer parts, and low maintenance lead to increased savings over the life of the machine. The energy efcient drive system allows for incredibly exible operation, precise speed control, and protection for the motor. The soft start technology greatly reduces stress on critical components, contributing to a longer life for the machine. The optional feeding section allows one operator to feed large items quickly. The ironing section pulls the goods over the heated cylinder while the folding section performs two length folds via air blasts into reversing rollers. The stacking system collects the folded linens and delivers them away from the machine. Number of items stacked is programmable. Productivity in a compact space the IF Series from B&C Technologies.
Open the catalog to page 1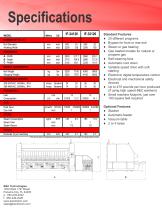 Specications MODEL inch inch inch inch inch Amps Amps Breaker Breaker Roll Diameter Working Width Standard Features t 20 different programs t Bypass for front or rear exit t Steam or gas heating t Gas heated models for natural or propane gas t Self cleaning fans t Automatic cool down t Variable speed drive with soft starting t Electronic digital temperature control t Electrical and mechanical safety devices t Up to 475 pounds per hour produced (if using high speed B&C washers) t Small machine footprint, just over 100 square feet required DIMENSIONS A - Width B - Depth C - Height WEIGHT AND...
Open the catalog to page 2
All B&C Technologies catalogs and technical brochures

Compare up to 10 products