Catalogs

>

Baxter

>

Baxter?s Medical Products
Catalog excerpts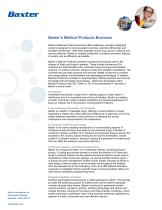 Baxter's Medical Products Business Baxter's Medical Products business offers healthcare providers integrated solutions designed to improve patient outcomes, optimize efficiencies and facilitate remote care. With deep expertise across drug, device, software and service platforms, Baxter is uniquely positioned to enhance providers' delivery of quality care as efficiently as possible. Baxter's Medical Products business manufactures products used in the delivery of fluids and drugs to patients. These include intravenous (IV) solutions and administration sets, premixed drugs and drug-reconstitution systems, IV nutrition products, infusion pumps and inhalation anesthetics. The business also provides products and services related to pharmacy workflow and compounding, drug formulation and packaging technologies. In addition, Medical Products is a leader in renal therapies, offering products and services for people with end-stage renal disease. Sales from businesses within Medical Products were $8.7 billion in 2013 and represented 57 percent of Baxter's annual sales. Anesthesia Anesthesia has played a major role in making surgery a viable option in healthcare, and is an important area of focus for Baxter. Baxter is a leading provider of all three modern inhaled anesthetics for general anesthesia and plays an integral role in the practice of perioperative medicine. Drug and Drug Formulation Technologies Baxter is a leader in injectable drugs, offering a broad portfolio of critical medications. Baxter also offers distinctive labeling as an extension of its drug safety initiatives intended to assist clinicians in selecting the correct medications and concentrations of its medications. IV Solutions and Premixed Drugs Baxter is the world's leading manufacturer of commercially prepared IV solutions as well as frozen and ready-to-use premixed drugs in flexible IV containers. Baxter's portfolio of IV solutions and premixed drugs is among the broadest in the industry. Baxter introduced the world's first flexible, closedsystem IV container systems, helping to reduce the potential for contaminants that can affect the solutions and cause infections. IV Infusion Systems and Administration Sets Baxter is a recognized leader in IV medication delivery, providing infusion pumps, IV tubing and access devices to control the delivery of IV fluids and drugs to patients. Baxter provides electromechanical infusion pumps used in hospitals and other acute-care settings, as well as portable devices used in oncology and pain management. Baxter pumps enable clinicians to deliver a wide range of infusion rates to accommodate use throughout the hospital, from the neonatal unit to the emergency room, and offer features that allow caregivers to establish limits for specific drugs to enhance patient safety and help reduce medication-programming errors. Parenteral Nutrition Products Nutrition administered intravenously is called parenteral nutrition. This therapy provides life-sustaining support for patients who cannot receive adequate nutrients through other means. Baxter's products for parenteral nutrition include solutions, container systems, admixing technology and vitamin and mineral formulas. Among its innovations are triple-chamber containers, which enable clinicians to administer many of the essential nutritional ingredients to patients in a safe, convenient and cost-effective manner.
Open the catalog to page 1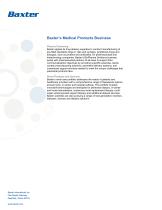 Baxter's Medical Products Business Pharma Partnering Baxter applies its drug delivery expertise to contract manufacturing of pre-filled injectable drugs in vials and syringes, lyophilized drugs and biologics, such as proteins and antibodies, for pharmaceutical and biotechnology companies. Baxter's BioPharma Solutions business works with pharmaceutical partners of all sizes to support their commercialization objectives by providing scientific expertise, sterile contract manufacturing solutions, parenteral delivery systems, and customized support services needed to meet the unique challenges...
Open the catalog to page 2
All Baxter catalogs and technical brochures

Compare up to 10 products