Catalogs

>

PowerWire™ RF Guidewire
Catalog excerpts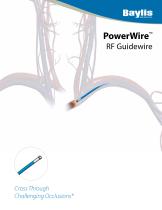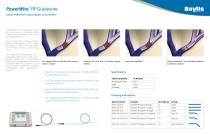 PowerWire™ RF Guidewire Cross through challenging occlusions* The PowerWire™ RF Guidewire is used to cross lesions in occluded blood vessels that are difficult to cross with a standard guidewire. * It has an atraumatic radiopaque tip that delivers radiofrequency (RF) energy to vaporize a channel through lesions with minimal trauma to surrounding tissue. The PowerWire™ RF Guidewire has a torqueable, stiff proximal shaft with a smooth transition to a more flexible distal end. The length allows for catheter exchange while the body has a low friction coating to allow for controlled advancement...
Open the catalog to page 2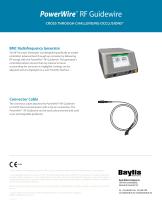 cross through challenging occlusions* BMC Radiofrequency Generator The RF Puncture Generator was designed specifically to enable controlled advancement through an occlusion by delivering RF energy with the PowerWire™ RF Guidewire. The generator's controlled output ensures that any trauma to tissue surrounding the occlusion is negligible. Settings can be adjusted and are displayed on a user-friendly interface. Connector Cable The connector cable attaches the PowerWire™ RF Guidewire to the RF Puncture Generator with a clip on connection. The PowerWire™ RF Guidewire can be easily disconnected...
Open the catalog to page 3
All Baylis Medical catalogs and technical brochures

Compare up to 10 products