Catalogs

>

RFP-100A RF Puncture Generator
Catalog excerpts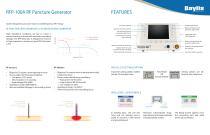 System designed to puncture tissue via radiofrequency (RF) energy RF PUNCTURE (RFP) GENERATOR vs. RF ABLATION (RFA) GENERATOR Left soft-touch keys for parameter adjustments Typical Ablation Impedance Right soft-touch keys for parameter adjustment Large LCD message window Voltage Differences Between RF Puncture and RF Ablation Power (watts) High impedance conditions are key to create a precise puncture in tissue, with minimal surrounding damage. The RFP Generator is designed to function at high impedance, whereas a typical RFA Generator is not. Ambient light sensor Lightweight with a small...
Open the catalog to page 2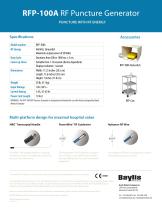 RFP-100A RF Puncture Generator PUNCTURE WITH RF ENERGY Specifications Model number RF Energy Duty Cycle Count-up Timer Dimensions Weight Input Voltage Current Rating Power Cord Length Accessories RFP-100A 468 kHz, Sinusoidal Maximum output power of 50 Watts Durations from 300 or 1000 ms ± 5 ms Settable from 1-10 seconds (Device dependent) Display resolution: 1 second Width: 11.25 inches (28.5 cm) Length: 15.6 inches (39.6 cm) Height: 7 inches (17.8 cm) 20 lb. (9.1 kg) 100-240 V~ 5.0A, 50-60 Hz 10 feet WARNING: The RFP-100A RF Puncture Generator is designed and intended for use with devices...
Open the catalog to page 3
All Baylis Medical catalogs and technical brochures

Compare up to 10 products