Catalogs

>

Envirom™ Trunking Systems HTM/ISO Specification Sheet
Catalog excerpts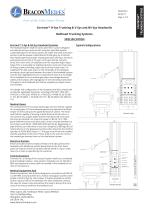 ENVIROM™ TRUNKING SYSTEMS Envirom™ H-Sys Trunking & V-Sys and NV-Sys Headwalls Bedhead Trunking Systems SPECIFICATION Envirom™ V-Sys & NV-Sys Headwall Systems The headwall system shall be constructed from custom designed extruded aluminium sections with customer specified powder coated 60% gloss finish fascia panels. All visible extruded aluminium sections shall be powder coated RAL9010 60% gloss by a DuPont/ Akzo Nobel approved powder coating specialist, offering a minimum guaranteed service life of 25 years. End caps shall be manufactured from 3mm thick UV stabilised and fire retardant high-impact Fabex 578. A removable UV stabilised polymer extrusion shall cover all fixing screws, providing a tight seal to prevent dust traps. UV stabilised PVC wall seals shall run the full length of the headwall, providing a dust tight seal between the sides of the headwall system and the wall. Segregated service compartments shall run the length of the headwall to carry medical gas pipes, low-voltage electrical cables and ELV/data, with segregation of services being maintained throughout. Each headwall unit shall be supplied pre-piped, wired and certified. Typical Configurations Examination Lamp The design and configuration of the headwall shall fully comply with all relevant applicable standards, including HTM 2007, HTM 2011, HTM 2015, HTM 2020, HTM02-01, HTM 2022, HTM08-03, BS EN ISO 11197, BS EN 60601-1, BS 6496, BS 7671, BS EN 60439, IEC 60364-7710. Medical Gases The compartment for housing medical gas services shall be capable of running pipes of 15mm diameter generously spaced to facilitate simple on-site brazing to the piped distribution system. The headwall shall be capable of housing at least three terminal units in a horizontal array. Copper pipes shall be manufactured from phosphorous de-oxidised non-arsenical copper to BS EN 1412:1996 grade CW024A and be manufactured to metric outside diameters in accordance with BS EN 13348:2001R250 (half hard). Degreasing of pipe shall be such that there is less than 20mg/m2 (0.002mg/cm2) of hydrocarbons on the degreased surface when tested by the method specified in ASTM B280 clause 12. The type of terminal unit installed shall be specified by the client. Hoses shall not be used to connect the medical gas terminal units to the distribution system. Electrical Sockets Electrical sockets shall normally be fitted in the side panels of the headwall, with additional sockets being fitted to the front fascia panel as required. Electrical sockets shall be wired in ring or radial mains to circuits as specified by the customer. Provision for, or fitting of the nursecall system shall be co-ordinated by the headwall supplier. Data sockets including, but not limited to RJ45 and telephone sockets shall be installed in the headwall at the time of manufacture. Medical Equipment Rail Medical equipment rails shall be designed in accordance with BS EN 12218:1999, manufactured from a hollow rectangular stainless steel profile of 30mm high by 10mm deep. It shall be possible to retrofit further medical rails to the bedhead unit after installation without the need for power tools and without the need to disrupt the continuity of services provided by the bedhead unit. Atlas Copco Ltd. trading as Atlas Copco Medical Unit 18 Nuffield Way, Abingdon, Oxfordshire, UK OX14 1RL www.beaconmedaes.com Examination Lamp Medical Equipment Rail 30mm x 10mm Wall Seals Telephone socket (secondary) Gem 10 Oxygen Gem 10 Medical Air Medical Equipment Rail 30mm x 10mm Gem 10 Vacuum Unswitched 13A sockets (normal circuit) Unswitched 13A sockets (essential circuit) Twin unswitched 13A sockets (normal circuit)
Open the catalog to page 1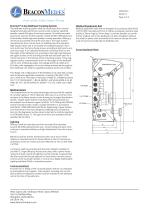 The bedhead trunking system shall be constructed from custom designed extruded aluminium sections with customer specified powder coated 60% gloss finish fascia panels. All visible extruded aluminium sections shall be powder coated RAL9010 60% gloss by a DuPont/Akzo Nobel approved powder coating specialist, offering a minimum guaranteed service life of 25 years. End caps shall be manufactured from 2.5mm thick UV stabilised and fire retardant high-impact Fabex 578. A removable UV stabilised polymer extrusion shall cover the fascia fixing screws, providing a tight seal to prevent dust traps. A...
Open the catalog to page 2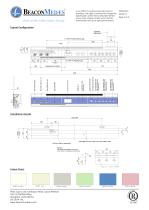 In an effort to continuously improve our products, the right is reserved to change the specification of the items described herein at any time. Please contact us for further information and up to date specifications. Typical Configuration Installation Details nvirom - Colour Selection Chart nvirom - Colour Selection Chart RAL9010 - Pure White nvirom - Colour Selection Chart Colour Chart RAL9010 - Pure White Atlas Copco Ltd. trading as Atlas Copco Medical Unit 18 Nuffield Way, Abingdon, Oxfordshire, UKRAL7047 - Telegrey 4 OX14 1RL RAL6019 - Pastel Green RAL5024 - Pastel Blue...
Open the catalog to page 3
All BeaconMedaes catalogs and technical brochures

Archived catalogs

Compare up to 10 products