Catalogs

>

Lubricated Rotary Vane Vacuum Systems
Catalog excerpts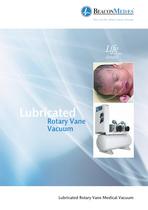 Multiple Configurations BeaconMedæs offers the Claw in a variety of formats in an effort to match your specific requirements. • Space saving vertical package for smaller horsepowers, System Start Up with VSD available on 5.4 Hp Your BeaconMedæs Lubricated Rotary Vane • Single Point Connection base mount systems in all sizes Vacuum plant includes the official start up by 5.4 Hp and larger, service technician. With a BeaconMedæs with the VSD option available • Modular base mount systems medical critical functions relying on yourto accommodate unique space requirements in all sizes to have vacuum system, it's essential5.4 Hp and larger, with the proper installation and functionality from VSD option available Tank Mount start up. System Start Up • Proper system operation is assured Your BeaconMedæs Claw Vacuum plant includes the • Time and money savings if problems occur official start up by a BeaconMedæs service technician. at start up With critical functions relying on your medical vacuum • Elimination of potential warranty issues in the future system, it's essential to have proper installation and functionality from start up. Preventive Maintenance • Proper system operation is assured The efficient operation and service Vertical Micro • Time and money savings if problems occur friendly design of the Lubricated Rotary at start up • Elimination of potential maintenance Vane Vacuum plant keep warranty issues in the future Power¹ HP Rotary Vane Vacuum SL400 REV 4/2011 • For applications where space is a factor, select from vertical micro, tank mount or horizontal stack mount configurations • Single Point Connection base mount systems in all sizes 5 HP through 25 HP • Modular base mount systems to accommodate unique space requirements in sizes from 5 HP to 15 HP ABC ABCDE Vertical Configuration System Capacity² lpm@450 SCFM@19" Hg Kw Lubricated Rotary Vane Vacuum mmHg Power¹ DUPLEX System Capacity² 2 1.5 16 453 HP KW SCFM@19" Hg lpm@450 mmHg 3 2.2 21 595 4 3.0 29 821 DUPLEX Tank MoUnT 5.4 38 1,076 198 2 4.0 1.5 7 * 5.4 Hp available with VSD 3 2.2 11 311 4 3.0 17 Modular or Single Point Connection 481 5 4.0 26 736 Configuration Power 1.5 2 Kw HP interventions to a minimum. Effective Preventive Maintenance service access combined with extended service intervals reduces maintenance The efficient operation and service friendly design of downtimeMedical Vacuum Systems keep maintenance the Claw and increases vacuum availability. to a minimum. Effective service access interventions combined with extended service intervals reduces • Low level of consumable parts Horizontal Stack maintenance downtime and increases vacuum • Direct access to all service points • Service warning function available via the availability. • TotalAlert Embedded controller Low level of consumable parts • BeaconMedæs Planned Maintenance • Direct access to all service points Program available • Service warning function available via the TotalAlert Embedded controller Multiple Configurations • BeaconMedæs Planned Maintenance Program BeaconMedæs offers the Lubricated Rotary available Vane Medical Vacuum System in a variety Single Point Connection of formats to match your specific space and capacity requirements. Lubricated Lubricated Rotary Vane Medical Vacuum Claw Medical Vacuum 5.4 6.4 7.5 8.7 10 15 5.4 6.4 7.5 8.7 10 15 5.4 6.4 7.5 8.7 10 15 15 DUPLEX VERTICaL MICRo System Capacity 1.5 7 2.2SCFM@19" 11 Hg 198 lpm@450 311 mmHg DUPLEX HoRIZonTaL STaCk 3 2.2 17 481 DUPLEX 5 4.0 37 1,047 38 52 1,0761,472 7.5 4.0 5.5 4.8 52 1,473 DUPLEX 5.5 65 1,841 MoDULaR oR SInGLE PoInT ConnECTIon 6.5 4.0 77 37 2,1811,047 5 90 52 2,5491,472 7.5 7.5 5.5 129 77 3,6532,180 10 11.0 7.5 TRIPLEX TRIPLEX MoDULaR oR SInGLE PoInT ConnECTIon 4.0 76 2,152 5 4.0 74 2,095 4.8 104 2,946 7.5 5.5 104 2,945 5.5 130 3,682 10 7.5 154 4,361 6.5 154 4,362 QUaDRUPLEX 7.5 180 5,098 MoDULaR oR SInGLE PoInT ConnECTIon 11.0 258 7,306 5 4.0 111 3,143 7.5 5.5 156 4,417 QUADRUPLEX 10 7.5 231 6,541 4.0 114 3,228 DUPLEX SInGLE PoInT ConnECTIon 4.8 156 4,419 15 11.0 111 3,143 5.5 195 5,523 20 15.0 137 3,879 6.5 231 6,543 25 18.0 168 4,757 7.5 270 7,647 TRIPLEX SInGLE PoInT ConnECTIon 11.0 387 10,959 15 11.0 222 6,287 20 15.0 274 7,759 PENTAPLEX 25 11.0 18.0 9,515 516 336 14,612 QUaDRUPLEX SInGLE PoInT ConnECTIon HEXAPLEX333 15 11.0 9,430 15 645 411 18,265 20 11.0 15.0 11,639 * All models available with VSD except 10 Hp 25 18.0 504 14,273 Modular Notes: notes: 1. Power is nameplate motor Hp and not necessarily the exact draw of is nameplatepump. kW and a conversion 1. Power the vacuum motor HP are not necessarily the from horsepower. exact draw of the vacuum pump. KW are a conversion 2. All capacities are shown as NFPA system capacities from horsepower. (reserve vacuum pump on standby). 2. All capacities are shown as NFPA system capacities (reserve vacuum pump on standby). BeaconMedæs BeaconMedæs Part of the Atlas Copco Group Part of the Atlas Copco Group 1800 Overview Drive, Rock 29730 1800 Overview Drive, Rock Hill, SC Hill, SC 29730 Tel: 888.4MEDGAS (463. Tel: 888.4MEDGAS (463. 3427) 3427) www.beaconmedaes.com www.beaconmedaes.com
Open the catalog to page 1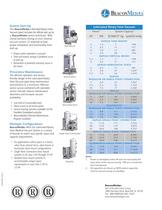 Multiple Configurations BeaconMedæs offers the Claw in a variety of formats in an effort to match your specific requirements. • Space saving vertical package for smaller horsepowers, System Start Up with VSD available on 5.4 Hp Your BeaconMedæs Lubricated Rotary Vane • Single Point Connection base mount systems in all sizes Vacuum plant includes the official start up by 5.4 Hp and larger, service technician. With a BeaconMedæs with the VSD option available • Modular base mount systems medical critical functions relying on yourto accommodate unique space requirements in all sizes to have...
Open the catalog to page 2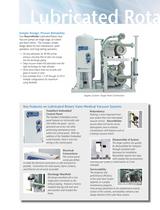 Lubricated Rotary Vane Vacuum Simple Design, Proven Reliability Your BeaconMedæs Lubricated Rotary Vane Vacuum pumps are single stage, air-cooled and direct driven. The compact, simple design allows for low maintenance, quiet operation, and long lasting operation. TM EMBEDDED • Oil mist eliminator for 99.9% oil-free exhaust, ensuring that oil does not escape into the discharge piping • Deep vacuum makes the lubricated vane the right technology for high altitudes • Direct drive means there are no belts and gears to loosen or wear • Sizes available from 1.5 HP through 25 HP in multiple...
Open the catalog to page 3
All BeaconMedaes catalogs and technical brochures

Archived catalogs

Compare up to 10 products