Catalogs

>

Medizone™ Area Service Module HTM/ISO Brochure
Catalog excerpts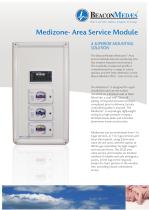 Area Service Module A SUPERIOR MOUNTING SOLUTION The BeaconMedss Medizone™ Area Service Module blends seamlessly into the modern hospital environment. The tastefully sculptured profile is complimented by a range of colour options and the fresh aesthetics of the BeaconMedss ZSU2 - zone service unit. The Medizone™ is designed for rapid installation and can be surface mounted on a finished wall or flush fitted into a stud wall. Since all piping, wiring and pressure testing is completed prior to delivery, factory controlled quality is assured. The Medizone™ is surprisingly lightweight, owing to a high pressure compact laminate fascia plate and extruded aluminium frame construction. Medizones can accommodate from 1 to 6 gas services, or 1 to 5 gas services and local alarm panel, using 22mm area valve service units, with the option of 28mm gas assemblies for high oxygen and vacuum flows. The ZSU2 area valve service unit includes an intuitive method of reliable and safe emergency access. A firm tug on the ring pull breaks the front portion of the window free, providing instant unhindered access.
Open the catalog to page 1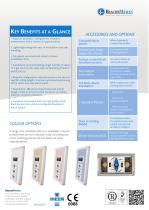 • Superior aesthetics - designed for a modern environment with a choice of 4 panel colours • Lightweight design for ease of installation and safe handling • Pre-piped, pre-wired and setup to reduce installation time • Suitable for accommodating a high number of valves (1-6 gas services) for areas such as Operating Theatres and leu/ecu • Bespoke configuration. Manufactured to suit the site specific ceiling height, to ensure optimised positioning of the valves and area alarm panel • Aluminium, ABS and compact laminate 2nd fix design create a corrosion proof enclosure providing inherent...
Open the catalog to page 2
All BeaconMedaes catalogs and technical brochures

Archived catalogs

Compare up to 10 products