Catalogs

>

Oil-less Medical Air Base Mounted Reciprocating Compressor
Catalog excerpts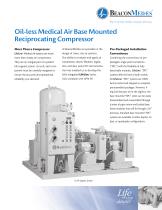 Oil-less Medical Air Base Mounted Reciprocating Compressor More Than a Compressor LifeLine Medical Air systems are much design of clean, dry air systems. Pre-Packaged Installation Convenience more than simply air compressors. Our ability to evaluate and apply air They are an integral part of a patient compressors, dryers, filtration, regula- packaged, single point connection life support system. As such, each com- tion, and dew point/CO instrumenta- ("SPC") with the flexibility of fully ponent must be carefully designed to tion has enabled us to develop the detachable modules, LifeLine® "SPC" ensure the air purity and operational fully integrated LifeLine® series. systems offer the best of both worlds. Fully compliant with NFPA 99. factory tested and shipped as complete, pre-assembled packages. However, if required because of on-site logistics, the base mounted "SPC" series can be easily disassembled and reassembled through a series of pipe unions and bolted base frame modules that will fit through a 36" doorway. Standard base mounted "SPC" systems are available in either duplex, triplex, or quadruplex configurations.
Open the catalog to page 1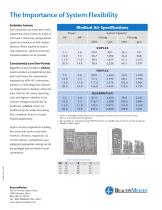 The Importance of System Flexibility Isolation System Each compressor and motor base is fully isolated from the air receiver by means of a four-point, heavy duty, spring isolation system for a minimum of 95% isolation efficiency. Where required by local or state regulations, optional seismically restrained isolators can be provided. point well below the requirements mandated by NFPA 99. Furthermore, advances in technology have allowed our design team to develop a desiccant industry. Designed specifically for healthcare, LifeLine® dryers are unaffected by the widely fluctuating flow...
Open the catalog to page 2
All BeaconMedaes catalogs and technical brochures

Archived catalogs

Compare up to 10 products