Catalogs

>

BERNER SealSafe
Catalog excerpts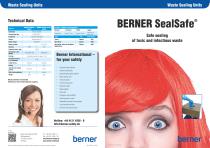 Waste Sealing Units Waste Sealing Units Technical Data BERNER SealSafe® Safe sealing of toxic and infectious waste Waste container not included. Contact your local waste disposal company. Berner International -for your safety ° Cytostatic safety cabinets ° Microbiological safety cabinets ° Waste sealing units ° Emergency-sets (Spillkits) ° Cleaning wipes & -pads ° Withdrawal cannulae (Chemospikes) ° Light protection pouches ° Cytotoxic wipe sampling sets Hotline: +49 4121 4356 - 0 Info@berner-safety.de For your smartphone! Berner International GmbH Muhlenkamp 6 D-25337 Elmshorn Germany Subject to technical changes! Several illustrations contain optional extras and features not supplied as standard.
Open the catalog to page 1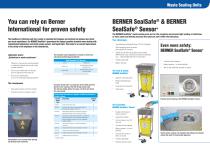 You can rely on Berner International for proven safety The handling of infectious and toxic waste is regulated by European and national law (please also check your local regulations). Our BERNER SealSafe® guarantees the highest possible standard when dealing with contaminated substances and shrink-wraps aerosol- and liquid-tight. This leads to an overall improvement of the safety of all employees in the laboratories. BERNER SealSafe® & BERNER SealSafe® Sensor The BERNER SealSafe® waste sealing units are for the reception and aerosol-tight sealing of infectious or toxic waste and thereby...
Open the catalog to page 2
All Berner International catalogs and technical brochures

Archived catalogs

Compare up to 10 products