Catalogs

>

Brochure_Residy Long-term Care Bed(BIH275EB)_BiHealthcare
Catalog excerpts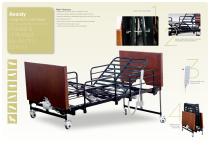 Main Features: Long-term Care Bed Solid and accurate performance Folded & Unfolded by electric control • Designed for long-term care for residential or clinic • Whole bed could be folded and unfolded by electric control • Featuring electronically adjustable height, back, knee, foot, trend and reversed trend positions. • With function of auto-contour, releasue the pressure of patient • Head and foot board made of wood • Side rail could be retractable under bed platform Fixed hook when folded Epoxy coated steel side rail could be retractable under bed platform Hand controller with hanging...
Open the catalog to page 2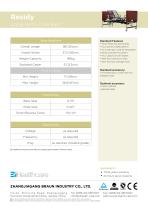 Long-term Care Bed Specifications Standard Features Overall Length Overall Width Weight Capacity Standard Caster Wood head and foot boards Four pieces of bed platform Four side rails could be retractable Hand controller for patient Four castors all with brakes With four holes for IV pole With two four drainage hook Standard accessory: Height Range Min. Height • One telescopic IV pole with four foldable hooks Optional accessory: • Foam mattress • Bedside table Positioning Back raise Knee raise Trend./Reverse Trend. Electronics Voltage as required (hospital grade) BI Healthcare reserves the...
Open the catalog to page 3
All BiHealthcare catalogs and technical brochures
Compare up to 10 products