Catalogs

>

Brochure_Trueeo Trauma Sstretcher(BIPT001H)_BiHealthcare
Catalog excerpts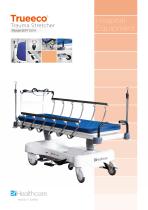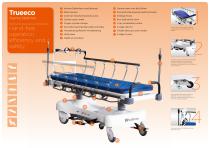 American imported hydraulic pump Hand-free operation, efficiency and safety Roller bumper Solid and accurate performance 10 Central castor with dia.200mm Trauma Stretcher Monitor/Defibrillator tray(Optional) Central castors brake 13 6cm high density foam Oxygen cylinder storage 14 X-ray compatiable surface Dual sides steeringwheel pedal and brake Trendelenburg/Reverse Trendelenburg 16 Foldale telescopic push handle Utility base Dual ends steeringwheel pedal and brake 3-stage side rail technology, offering more diversity care and protect to our patient. All sides accessing braking system,...
Open the catalog to page 2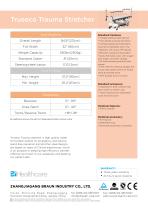 Trueeco Trauma Stretcher Specifications Standard Features Overall Length Full Width Weight Capacity Standard Caster Steeringwheel castor Height Range Max. Height • 3-stage stainless steel side rail • Push handle could be laid down • Compact grade laminatd board could be compatiable with x-ray • Backrest with quick CPR release • Backrest raising and knee gatch • Dusty free base cover, with oxygen tank holder and other storage • All sides accessing central brake system • Fifth wheel for steering straight line • Dual sides pedal control for height, trend & reversed trend • With bumper at four...
Open the catalog to page 3
All BiHealthcare catalogs and technical brochures
Compare up to 10 products