Catalogs

>

Crossvent 2i+
Catalog excerpts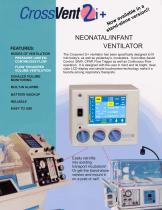 FEATURES: MODES OF VENTILATION PRESSURE LIMITED/ CONTINUOUS FLOW FLOW TRIGGERED VOLUME VENTILATION NEONATAL/INFANT VENTILATOR The Crossvent 2i+ ventilator has been specifically designed to fit into today's, as well as yesterday's, incubators. It provides Assist Control, SIMV, CPAP Flow Trigger as well as Continuous Flow , operation. It is designed with the user in mind and its bright, clear, color LCD display and simple touchscreen technology make it a favorite among respiratory therapists. EXHALED VOLUME MONITORING BUILT-IN ALARMS BATTERY BACKUP RELIABLE EASY TO USE Easily retrofits into existing transport incubators! Or get the stand-alone version and mount it on a pole or rail!
Open the catalog to page 1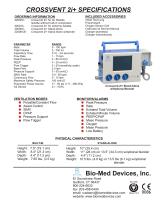 ORDERING INFORMATION Isolette without built-in compressor 2200JC- Crossvent 2i+ for Airborne Isolette 2200KCB Crossvent 2i+ Stand-Alone w/blender INCLUDED ACCESSORIES Infant Test Lung Oxygen Sensor Cell Instruction & Service Manual Charger (domestic) Charger (international) Tidal Volume Inspiratory Time Flow Rate Peak Pressure Flow Trigger Base Flow Pressure Support SIMV Rate Continuous Flow Maximum Safety Pressure Pneumatic Power Source w/Optional Blender VENTILATION MODES • Pulsatile/Constant Flow • Assist Control • Pressure Support • Flow Trigger • Peak Pressure • Exhaled Tidal Volume •...
Open the catalog to page 2
All Bio-Med Devices catalogs and technical brochures
Compare up to 10 products