Catalogs

>

Crossvent 3+
Catalog excerpts
Crossvent 3+ Adult and Pediatric Ventilator Superior por tability, flexibility and performance. Bio-Med Devices' new, industry-leading Crossvent 3+ Ventilator offers a wide range of ventilatory suppor t for both pediatric and adult patients in a variety of settings from air and ground transpor t to emergency depar tment to ICU to subacute care and more. A choice of configurations You can order the Crossvent 3+ in any one of three configurations: standard, with Bio-Med Devices Air/Oxygen Blender attached, or with air entrainment. The attached blender allows the user to set oxygen concentration from 21% to 100%. Units with air entrainment can deliver either 100% oxygen or a nominal 50% oxygen without the need for an external air supply source. The unique venturi mechanism built into the unit increases oxygen tank life by mixing ambient air with the source oxygen. A range of modes and alarms Using the color touchscreen display, operators can easily select the appropriate ventilation mode: Assist Control, SIMV, CPAP, Pressure Suppor t or Sigh. Available alarms include exhaled tidal volume, PIP, PEEP, mean pressure, low supply pressure, rate, oxygen concentration and low battery. Dependable power The Crossvent 3+ can be powered by a compressor, blended gas or 100% oxygen, and its consumption of gas is extremely low. The internal battery provides power during transpor t and in the event of AC power failure. If the external power should fail, the unit will automatically switch to its battery power and sound an alarm. A fully charged battery will last approximately 6 hours.
Open the catalog to page 1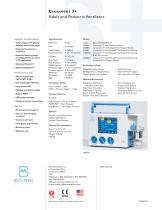 Crossvent 3+ Adult and Pediatric Ventilator • Color display with greater visibility and viewing angle • Improved touchscreen sensitivity • Improved battery gauge providing greater accuracy in 2% increments • Optional Exhaled VT • Optional Exhaled VE Key features include • Ultra-compact and lightweight design Tidal Volume Inspiratory Time Flow Rate Peak Pressure PEEP Pressure Pressure Trigger Pressure Suppor t SIMV Rate O2 Sensor Sigh Ventilation Modes • Long battery life • Multiple ventilation modes Assist Control | SIMV CPAP | Pressure Suppor t | Sigh • Built-in PEEP • Foolproof circuit...
Open the catalog to page 2
All Bio-Med Devices catalogs and technical brochures
Compare up to 10 products