Catalogs

>

Crossvent 4+
Catalog excerpts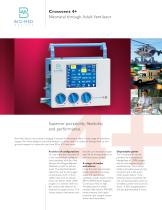 Neonatal through Adult Ventilator 29 FLOU 38 PRES SUPPORT OFF Superior portability, flexibility Bio-Med Devices' new, industry-leading Crossvent 4+ Ventilator offers a wide range of ventilatory support for infant, pediatric and adult patients, It can be used in a variety of settings from air and ground transport to subacute care, from ERto ICU and more. tions: standard, with Bio-Med Devices Air/Oxygen Blender attached, or with air entrap- ment. The attached blender allows the user to set oxygen 00%. Units with air entrap- ment can deliver either I 00% external air supply source. The unique venturi mechanism built into the unit increases oxygen tank life by mixing ambient air with the source oxygen Using the color touchscreen display, operators can easily ventilation mode: Assist Control, SIMV, CPAR Pressure Support Continuous Flow or Sigh Available alarms include exhaled tidal volume, PIR PEER mean pressure, low supply pressure, rate, oxygen concen- Dependable power battery provides power during external power should fail, the unit will automatically switch to its battery power and sound an alarm. A fully charged battery will last approximately 6 hours.
Open the catalog to page 1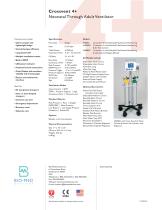 Crossvent 4+ Neonatal Through Adult Ventilator • Ultra-compact and lightweight design • Long battery life Tidal Volume Inspiratory Time • Multiple ventilation modes • Built-in PEEP • Easy to use touchscreen interface Flow Rate Continuous Flow Peak Pressure PEEP Pressure Pressure Trigger Pressure Suppor t SIMV Rate O2 Sensor Sigh Ventilation Modes Assist Control | SIMV CPAP | Pressure Suppor t | Sigh Continuous Flow | Pressure Limit • Foolproof circuit connections • Color Display with excellent visibility and viewing angle • Intra- or inter-hospital transport • Intensive care unit •...
Open the catalog to page 2
All Bio-Med Devices catalogs and technical brochures
Compare up to 10 products