Catalogs

>

InTray™ GC (Neisseria gonorrhoeae)
Catalog excerpts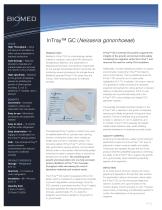 VALUE High Throughput - Once the device is inoculated no other culture preparation is required saving time Cost Savings - Reduces laboratory materials and medical waste and removes the need for a CO incubator 2 High specificity - Selective for the growth of Neisseria species by inhibiting the growth of other bacteria including: E. coli, S. epidermis, P. mirabilis, and C. albicans BENEFITS Convenient - Combines collection, culture, and observation into one device Easy to use - Minimal lab procedures and equipment needed Easy to store - 12 months shelf life under refrigeration Easy observation - No fogging or condensation on the InTray™ viewing window Safe - Fully enclosed InTray™ system prevents contamination and reduces exposure to collected samples PRODUCT SPECIFICS Storage - Refrigeration (2-8 °C) Shelf Life - 12 months at under refrigeration Incubation - 24 - 48 hours at 37 °C Quantity Sold 5 Pack (10-8007) 20 Pack (10-8001) InTray™ GC (Neisseria gonorrhoeae) PRODUCT BIO BioMed's InTray™ GC is a microbiology sample collection, transport, and culture IVD allowing for simultaneous detection, and observation of Neisseria gonorrhoeae, the bacterium responsible for the sexually transmitted infection Gonorrhea. By combining several procedures into a single device, BioMed's patented InTray™ GC saves time and money, while reducing exposure to collected samples. The patented InTray™ system consists of an outer, re-sealable label with an optically clear, anti-fog window covering the media, which creates an airtight seal over the 2" diameter surface. The innovative design of the InTray™, with its unique, high-performance viewing window, can be placed directly under a microscope while remaining sealed removing the need to prepare slides or expose the sample post inoculation. By combining both growth and observation into one fully enclosed system, BioMed's InTray™ GC increases throughput while decreasing the cost of laboratory materials and medical waste. The InTray™ GC system is equipped with a CO2 tablet, which is contained in a sealed inner chamber to prevent degradation during storage. Once the CO2 chamber is punctured and the InTray™ sealed, the tablet generates the required atmosphere of CO2 gas, approximately 7%, to create the anaerobic environment needed for the growth of N. gonorrhoeae. InTray™ GC's internal CO2 system supports the integrity of the growth environment while safely containing the organism within the InTray™ and removes the need for costly CO2 incubators. Additionally, it is also designed to perform in austere environments, making the InTray™ GC ideal for point-of-care testing. This is possible because the InTray™ GC stores for up to a year under refrigeration (2-8 °C). In addition, the unique, internal CO2 generation system provides the necessary anaerobic atmosphere for culture giving it a reduced reliance on laboratory equipment. Point-of-care sampling can be performed easily due to the InTray™ GC's robust design and integral CO2 generation system. The specially formulated enriched medium in the InTray™ GC is selective in the growth of Neisseria species and inhibits the growth of fungi and other bacteria. The list of inhibited fungi and bacteria include: C. albicans, E. coli, S. epidermis, and P. mirabilis. InTray™ GC's specially formulated media makes detection easy, while inhibiting potential interference in obtaining accurate results. QUALITY CONTROL At the time of manufacture, quality control testing is performed on each lot of the InTray™ GC prior to shipment in order to ensure viability and sterility. These tests are repeated through the end of the product shelf life by BioMed Diagnostics confirming the ability of the InTray™ GC to support the growth of N. gonorrhoeae, while maintaining specificity against other organisms. DETECTION At 24 hours and at 48 hours, observe for colony growth and appearance through the clear window. For examination using a microscope, simply place the InTray™ GC on the microscope stage and observe. Colonies of N. gonorrhoeae on this medium appear smooth and gray in color. However, typical colony morphology is insufficiently specific to confirm the identification of the gonococcal organism.
Open the catalog to page 1
InTray™ GC (Neisseria gonorrhoeae) CORPORATE OVERVIEW BioMed Diagnostics, Inc., a boutique biotech firm and an industry leader since 1989, develops and manufactures in vitro diagnostic devices. BioMed's point-of-care ready tests provide accurate diagnostic tools for scientists worldwide to aid in the identification of bacteria, parasites and fungi. The company formed as the result of a mercy mission conducted by a group of physicians to Central America; there they discovered the need for robust diagnostic tools for use in austere environments. Their experience unleashed the inspiration for...
Open the catalog to page 2
All Biomed Diagnostics catalogs and technical brochures

Compare up to 10 products