Catalogs

>

GlowZone
Catalog excerpts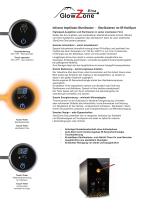 Infrarot Impfösen-Sterilisator - Sterilisieren im IR-HotSpot Highspeed-Ausglühen und Sterilisieren in seiner smartesten Form Wollen Sie Ihre Impfösen und empfindlichen Kleinstinstrumente schnell, effizient und ohne Gasflamme ausglühen oder sterilisieren? Dann ist unser elektrischer GlowZone Etna bestens geeignet. Touchbedienung ON / OFF - Benutzerwahl Touch operation ON / OFF - user selection Smartes Infrarotlicht – sofort einsatzbereit Speziell fokussiertes Infrarotlicht erzeugt einen IR-HotSpot und sterilisiert Ihre Impföse bei einer Temperatur von 750 bis 1000°C in nur 5 bis 10 Sekunden...
Open the catalog to page 2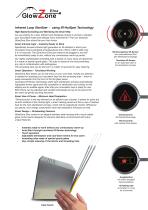 Infrared Loop Sterilizer - using IR-HotSpot Technology High-Speed Annealing and Sterilizing the Smart Way Are you looking for a fast, efficient and flameless product to anneal or sterilize your inoculation loops and delicate micro instruments? Then our electrical GlowZone Etna should be your first choice. Smart Infrared Light – Instantly Ready to Work Specifically focused infrared light generates an IR-HotSpot in which your inoculation loop is sterilized at temperatures from 750 to 1000°C after only 5 to 10 seconds. The GlowZone Etna just needs to be plugged in and will be immediately ready...
Open the catalog to page 3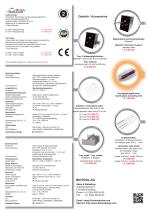 Lieferumfang: Infrarotlicht-Technologie und Quarzglasausgluhrohre Ersatz-Quarzglasausgluhrohre Impfosenhalter mit Impfose 0 3 mm Halterung fur 3 Impfosenhalter 2 Jahre Garantie* The range: Infrared light technology and quartz glass annealing tube Replacement quartz glass annealing tube Inoculation loop holder with inoculation loop 0 3 mm Holding device for 3 inoculation loop holders 2-year warranty* for230 Vmains voltage LF4.001.000 *(VerschleiBteile ausgenommen / Expect parts to wear and tear) Technische Daten IR-Sensor: Touch-Bedienung: Thermocontrol:...
Open the catalog to page 4
All Biotool Swiss AG catalogs and technical brochures
Compare up to 10 products