Catalogs

>

Fortress
Catalog excerpts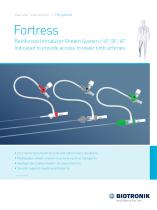 Vascular Intervention  //  Peripheral Reinforced Introducer Sheath System / 4F, 5F, 6F Indicated to provide access to lower limb arteries   Coil reinforced sheath for kink and deformation resistance   Radiopaque sheath marker to provide optimal radiopacity   Hydrophobic coated sheath1 for easy insertion   Smooth tapered sheath and dilator tip   5F and 6
Open the catalog to page 1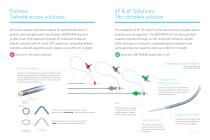 Fortress      Tailored access solutions 4F & 6F Solutions: The complete solution Minimally invasive intervention allows for optimal treatment of The availability of 4F, 5F and 6F reinforced introducer sheaths allows patients with complex lower limb disease. BIOTRONIK was first a tailored access approach. The BIOTRONIK 6F Solutions portfolio to offer lower limb treatment through 4F reinforced introducer enables treatment through our 6F reinforced introducer sheath sheath combined with 4F and 0.018" guide wire, compatible balloon while utilizing our trusted 6F compatible balloon catheters and...
Open the catalog to page 2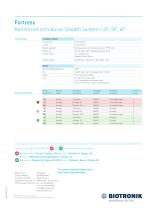 Sheath material Stainless steel coil reinforced polymer, PTFE liner Sheath tip Smooth taper with radiopaque marker band Sheath shape Pre-curved 45 cm Straight 45 and 100 cm Sheath coating Hydrophobic, distal 30 cm (5F and 6F only) Dilator Recommended guide wire 0.035" Tip Smooth taper with radiopaque filler material Shape Pre-curved and straight Hub 4F: fixed hemostatic valve 5F, 6F: removable hemostatic valve Side-arm with color coded 3-way stop cock Sheath Sheath Introducer Catalogue Dilator(s) Ordering Information length (cm)...
Open the catalog to page 3
All Biotronik catalogs and technical brochures

Compare up to 10 products