Catalogs

>

Passeo-18
Catalog excerpts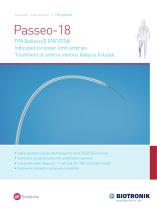 Passeo-18 PTA Balloon/0.0187OTW Indicated for lower limb arteries Treatment of arterio-venous dialysis fistulae ■ Highly pushable coaxial shaft design for most distal lesion access ■ Controlled compliant balloon for predictable expansion ■ Low profile, wide range: 0 2 - 7 mm and 20 - 200 mm balloon length ■ Patchwork coating for enhanced crossability % BIOTRONIK excellence for life
Open the catalog to page 1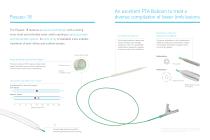 n excellent PTA Balloon to treat a A diverse compilation of lower limb lesions Passeo-18 The Passeo-18 features a coaxial shaft design with a strong inner shaft and a flexible outer shaft creating a highly pushable and deliverable system. Its wide array of available sizes enables treatment of both inflow and outflow vessels. Coaxial catheter shaft Controlled compliance The innovative balloon design and material enable a low average compliance rate. This predictable radial balloon expansion suggests to minimize the risk of dissection. Patchwork coating for enhanced crossability The...
Open the catalog to page 2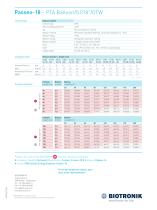 Technical Data Balloon catheter Catheter type Recommended guide wire Tip Balloon material Balloon folding Balloon coating Balloon markers Sizes Shaft Usable length OTW 0.018" Short and tapered, colored SCP (Semi-Crystalline Polymer), controlled compliance (4 - 8 %) 5-fold Hydrophobic patchwork coating 2 swaged markers (zero profile) 0 2.0 - 7.0 mm; L: 20 - 200 mm 3.8F, 3.9F (0 6.0/7.0 mm x 1 70 - 200 mm); coaxial design 90, 130 and 150 cm Ordering Information Catheter Balloon Length (cm) 0 (mm) 2 8 weeks pre-order only Passeo-18 is part of the BIOTRONIK CPjj Solutions portfolio, including:...
Open the catalog to page 3
All Biotronik catalogs and technical brochures

Compare up to 10 products