Catalogs

>

Apollo
Catalog excerpts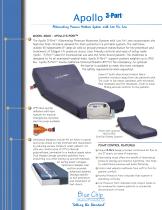 Alternating Pressure Mattress System with Low Air Loss MODEL 4600 - APOLLO 3-PORT™ The Apollo 3-PortTM Alternating Pressure Mattress System with Low Air Loss incorporates the features that clinicians demand for their patients in a portable system. The mattress utilizes 16 independent 8" deep air cells to provide pressure redistribution for the prevention and treatment of Stages I-IV pressure ulcers. User friendly controls and ease of setup make Apollo - 3 PortTM ideal for institutional use and the home-bound patient. The mattress is designed to fit all standard hospital beds. Apollo 3-PortTM support patient weights up to 350 lbs. Apollo 3-PortTM meets California Technical Bulletin #117 for fire retardancy. An optional fire barrier is available to meet the most stringent fire safety requirements when requested. Vyvex-III™ multi-directional stretch fabric transfers moisture away from the patient's skin. The cover is low shear, washable, anti-microbial, fluid resistant and fire retardant. Cover is loose fitting and will conform to the patient. CPR Valve quickly deflates mattress system for medical emergencies. Optional electric pump available. Shown with optional 4600-SRS Side Rail Safety System Ventilated bladders include 40 air holes in sacral and torso areas to help minimize skin maceration by reducing excess moisture under patient. Air cells are constructed of (TPU) thermal polyurethane, laminated to a medical grade nylon. Dual bladder design prevents patients from bottoming out, while sitting up and will maintain air during power outages. Optional 4 bladder heel section provides advanced dynamic therapy specific to the prevention and treatment of heel ulcers. PUMP CONTROL FEATURES Unique 3-Port design provides continuous air flow to the 3" static air base of mattress. Alternating mode offers the benefit of alternating pressure therapy and reactive hyperemia. This helps to redistribute pressure well below 32mmHg. Control dial adjusts mattress from soft to firm for patient comfort. Normal Pressure Alert indicates that system is operating correctly. Low Pressure Alert indicates that output needs to be increased for heavier patients or accidental disconnection of hoses. Blue Chip Medical Products, Inc. "Setting the Standard"
Open the catalog to page 1
MATTRESS ONLY Dimensions: Weight: Air Cells: 35" x 80" x 8" 18 lbs. 16, 8" Air cells 13 Alternating cells 10 Ventilated cells with 40 air holes 3 Static cells in head section 14, 8" bladders & 4, 4" foot section air bladders Vyvex-III™ removable zippered, low shear, moisture resistant / vapor permeable cover Adjustable anchor straps secures mattress to bed frame. Fire evauation handles standard PUMP Dimensions: Weight: Electrical: Cycle Time: Air Flow: Listings: Ground Resistance: Current Usage: Power Cord: Construction: 10.75" x 7.5" x 3.5" 6.8 lbs. 120V 60Hz 10 minutes 7.5 liters 0.1 ohms...
Open the catalog to page 2
All Blue Chip Medical Product catalogs and technical brochures

Compare up to 10 products