Catalogs

>

Power Pro
Catalog excerpts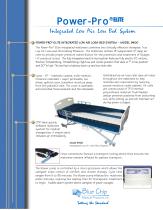 Integrated Low Air Loss Bed System ® • POWER-PRO ELITE INTEGRATED LOW AIR LOSS BED SYSTEM - MODEL 9400 The Power-Pro® Elite integrated mattress combines two clinically effective therapies: True Low Air Loss and Alternating Pressure. The mattress utilizes 18 independent 9" deep air cells to provide proper pressure redistribution for the prevention and treatment of Stages I-IV pressure ulcers. The fully integrated electric bed system features fully electric DC motors, Reverse Trendelenburg, Trendelenburg, High/Low and Cardio position. Bed deck is 7" in low position and 30" in high. The bed has a battery back-up and two side rails. Vyvex - III® - Urethane coated, multi-stretch, moisture resistant / vapor permeable, low shear, quilted cover, transfers moisture away from the patient's skin. The cover is washable, anti-microbial, fluid-resistant and fire-retardant. Ventilated low air loss cells have air holes throughout the mattress to help minimize skin maceration by reducing excess moisture under patient. Air cells are constructed of TPU thermal polyurethane material. Dual bladder design prevents patients from bottoming out, while sitting up and will maintain air during power outages. CPR Valve quickly deflates mattress system for medical emergencies. A simple twist releases air immediately. Model 9400 Integrated Low Air Loss Bed System Hose connections feature a transport locking device that ensures the mattress remains inflated for patient transport. The blower pump is controlled by a micro-processor which allows the caregiver total control of comfort and chosen therapy. Cycle time ranges from 5 to 95 minutes. The blower pump inflates the mattress within minutes, reducing the waiting time for therapeutic treatment to begin. Audible alarm system alerts caregiver of power outages. Blue Chip Medical Products, Inc. "Setting the Standard"
Open the catalog to page 1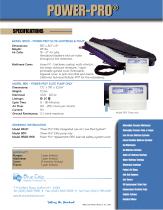 SPECIFICATIONS MODEL 9500 - POWER-PRO® ELITE MATTRESS & PUMP Dimensions: 36" x 80" x 9" Weight: 23 lbs. Air Cells: 18 - 9" Air cells Ventilated bladders with air holes throughout the mattress. Mattress Cover: Vyvex-III® - Urethane coated, multi-stretch, low shear, moisture resistant / vapor permeable quilted cover. Removable, zippered cover, is anti-microbial and meets California Technical Bulletin #117 for fire-retardancy. MODEL 9511 - POWER-PRO® ELITE PUMP ONLY Dimensions: 17L" x 7W" x 10.5H" Weight: 12 lbs. Electrical: 120V 60 hz Listings: Cycle Time: 5 - 95 Minutes Air Flow: 60 - 250...
Open the catalog to page 2
All Blue Chip Medical Product catalogs and technical brochures

Compare up to 10 products