Catalogs

>

tradewind
Catalog excerpts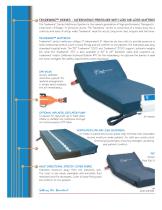 The Tradewind' Series Mattress System is the newest generation of high performance Therapeutic treatment of Stage I-IV pressure ulcers. The Tradewind series is comprised of a heavy-duty low a controls and ease of setup make Tradewind' ideal for acute, long term care, hospice and the home TRADEWIND™ MATTRESS Tradewind' series mattress utilizes 17 independent 3" deep low air loss cells to provide pressure re Multi-directional stretch cover is loose fitting and will conform to the patient. The mattress was desic standard hospital beds. The 55" Tradewind' 1000 and Tradewind'1 5000 support...
Open the catalog to page 2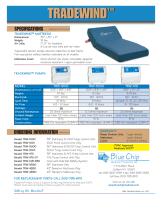 SPECIFICATIONS TRADEWIND™ MATTRESS 3 Low air loss cells with air holes Adjustable anchor straps secures mattress to bed frame. Fire evacuation safety handles standard on all models. Mattress Cover. Multi-stretch low shear, removable, zippered moisture resistant / vapor permeable cover TRADEWIND™ PUMPS ORDERING INFORMATION- Model: TRW-IOOO Model: TRW-1001 Model: TRW-3000 Model: TRW-3001 Model: TRW-ATS Model: TRW-ATS-01 Model: TRW-CY'R-SRS Model: TRW-3560 Model: TRW-4260 Model: TRW-4660 FOR REPLACEMENT PARTS CALL 600-795-6115 35** Mattress & 1000 Pump Control Unit 1000 Pump Control Unit...
Open the catalog to page 4
All Blue Chip Medical Product catalogs and technical brochures

Compare up to 10 products