Catalogs

>

The new P-series piston compressors
Catalog excerpts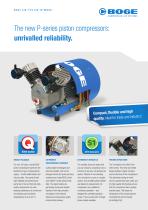 Compact, flexible and high quality. Ideal for trade and industry! HIGHLY RELIABLE For over 100 years, sturdy BOGE piston compressors have been the backbone of your compressed air supply - in both skilled trades and industry alike. The secret of their high reliability and performance partly lies in the fact that only high-quality components are used, keeping maintenance to a minimum and allowing use at ambient temperatures of up to 40 °C. EXTREMELY MAINTENANCE-FRIENDLY Cutting-edge technologies and enhanced details, such as the enlarged oil inlet (for quick and easy maintenance), keep BOGE's tried-and-tested P-series ahead of the field. The latest models are particularly sturdy and durable thanks to their high-precision manufacture with minimal tolerances and extensive quality checks before delivery. EXTREMELY VERSATILE The modular structure means that you can choose a compressor and a tank size to suit your compressed air system. Whether a free-standing unit, mounted on a tank or a duplex system, this versatility allows flexible use tailored to requirements. All compressors are suitable for continuous operation - and designed for unlimited operating cycles. There are also 230-V/single phase models available. PROVEN STRUCTURE The V-principle is the DNA of the entire series. This tried-and-tested design enables a highly compact, narrow structure of the compressors. The optimised cooling air hood, narrow smooth-bore tube cooler and the high-quality fan flywheel ensure that the compressor heat is quickly diverted away. This keeps the temperature of the compressed air constantly low and the quality accordingly high.
Open the catalog to page 1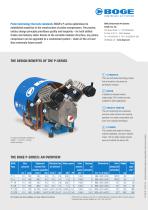 Piston technology that sets standards: BOGE's P-series epitomises its established expertise in the construction of piston compressors. The proven, unitary design principle prioritises quality and longevity – for both skilled trades and industry alike: thanks to the versatile modular structure, any piston compressor can be upgraded to a customised system – state-of-the-art and thus extremely future-proof! BOGE Compressed Air Systems GmbH & Co. KG Otto-Boge-Straße 1–7 · 33739 Bielefeld P.O. Box 10 07 13 · 33507 Bielefeld Tel. +49 5206 601-0 · Fax +49 5206 601-200 info@boge.com · www.boge.com...
Open the catalog to page 2
All BOGE FRANCE catalogs and technical brochures
Compare up to 10 products